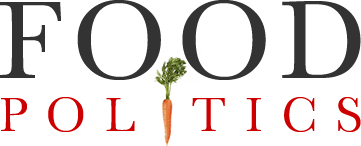 by Marion Nestle
Government policies to reduce obesity: suggestions for action
Thanks to all who commented on my April 1 (not a joke) post on inadvertant government policies that promote obesity.
Thanks in particular to Joshua De Voto who forwarded a link to the Sean Faircloth article that kicked off this discussion.
What's remarkable about the list of items is that they constitute a policy agenda for health promotion.  Just turn them around:
Subsidize development of trails and sidewalks in cities and communities.
Pass zoning laws that encourage foot and bicycle traffic.
Provide nutrition information in fast food and other restaurants (fingers crossed that the FDA will eventually get on this).
Require physical education, nutrition, and cooking classes in schools.
Ban marketing of junk foods to children.
Ban marketing of junk foods in schools (USDA is trying to do this).
Subsidize production of fresh fruits and vegetables.
Subsidize healthy foods in programs for poor people.
Eliminate corporate tax deductions for marketing.
Permit

lawsuits against food companies.
I can think of other policies well worth promoting.
Please add to the list!