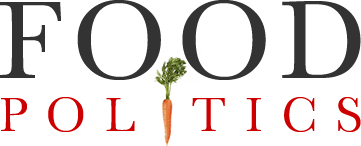 by Marion Nestle
Capitalism in our food?
I wrote the Foreword to Eric Holt Giménez's Foodies Guide to Capitalism: Understanding the Political Economy of What We Eat.  
His book won't be out for a few weeks, but Food First, the organization he heads, has published my Foreword as a Backgrounder, titled The Capitalism in Our Food.
Here's how it begins:
When Eric Holt-Giménez asked me to introduce his Foodie's Guide to Capitalism, I said yes right away. I love the title, I think the food movement needs this book, and I am tired of having to treat capitalism as the "C-word,"never to be mentioned in polite company. Those of us "foodies" who love to eat and want our food system to produce tastier, healthier, and more sustainable diets—and to provide a decent living to everyone involved in this work—need to bring capitalism out of the closet, understand the problems it causes, and deal with them front and
center. Eric (if I may) has done us an enormous favor by producing this book at this time.
And here's the pull-quote: