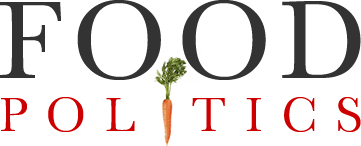 by Marion Nestle
TODAY! New York City school lunches FREE for ALL students
Wonderful news!
In a press release yesterday from New York City:
CHANCELLOR FARIÑA ANNOUNCES FREE SCHOOL LUNCH FOR ALL 

Starting tomorrow, lunch is free for every NYC public school student

NEW YORK — Schools Chancellor Carmen Fariña, City Council Speaker Melissa Mark-Viverito and Public Advocate Leticia James today announced that lunch is now free for every student at every public school across New York City. Free School Lunch for All will provide over 200,000 more students with free lunch starting this school year. Last school year, 75% of students were eligible for free lunch and starting this school year, 100% of families will be eligible to receive free lunch.

New York City has sought all forms of funding for meal reimbursement and is now eligible to receive the highest reimbursement from the federal government through the Community Eligibility Provision (CEP). This federal program allows school districts to provide meals free of charge to all enrolled students.
The press release has enthusiastic quotes from just about everyone who gets credit for this (and grateful thanks to all of you), but here's the one from Jan Poppendieck who has been advocating for this for years:
"There is no more important step the City could have taken to promote the health, academic success, and wellbeing of our children. Free school lunch for all, without stigma or bureaucratic hassle, will not only secure access to healthy school meals for all NYC students, it will enhance the entire school dining experience. Now school lunch can truly become an integral part of the school day, a social center and a learning experience, integrated with the curriculum. The CUNY Urban Food Policy Institute applauds the Mayor, the City Council, the Office of School Food and Nutrition Services, and all of the advocates in the Lunch For Learning Campaign who have worked so hard to bring us to this day," said Jan Poppendieck, Senior Fellow, CUNY Urban Food Policy Institute and author, Free For All: Fixing School Food in America.
Her book got everyone thinking about how much free lunches make sense.  And now it's happening!  Congratulations to all!