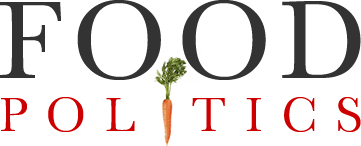 by Marion Nestle
New York City's successful school food initiatives
I was pleased to see the article in last Sunday's New York Times about New York City's efforts to improve school food.   The story focused on PS 56, a school that serves low-income kids in Brooklyn.
The article  describes the food revolution that is taking place in New York City schools, one described in an excellent report by Hunter College faculty.
In singling out PS 56, the writer chose a good example.
I visited there a year or so ago, and wrote about it at the time under the title "School food: it can be done!"  Its cafeteria is an astonishing place.  The food smelled good.  It tasted good.  The staff cared whether the kids ate what they cooked.
When I asked whether this school was typical, the answer was "not exactly."  How come it worked?  Everyone pointed to the principal, Deborah Clark-Johnson, who believes it's important to feed kids well and who totally supported the cafeteria staff.
So one way to improve school food is to recruit caring staff.
Another, for older kids, is to encourage them to make better choices.  An article in the Boston Globe discusses Cornell professor Brian Wansink's work in this area:
But it turns out that students are susceptible to the same marketing strategies that grocery stores have been using for years. Several experiments have shown that children will be more likely to eat items if they see them early in the lunch line and find them attractive and convenient to pick up. Putting fruit in a good-looking bowl works. So does putting a salad bar in a prominent place. Calling your carrots "X-ray vision carrots" can double sales.
I've discussed Professor Wansink's work on lunch line redesign in an earlier post.  It raises an interesting question: is this the right strategy, or should schools just serve healthy food in the first place?
This is worth discussion.  Want to weigh in?