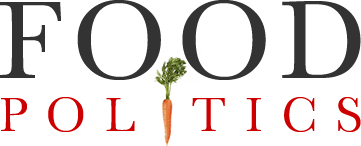 by Marion Nestle
Increasingly popular: Vegan diets
GlobalData, a data and analytics company., says vegan diets will be even more popular in 2018.
Great Britain: In 2017, 3% self-identified as vegan, compared with 0.8% in 2014.
U.S.: In 2017, 5.5% self-identified as vegan, compared with 1% in 2014.
GlobalData consumer analyst, Ronan Stafford comments
The rising number of vegans and how fashionable the cuisine now seems to be, big companies are taking notice; the number of vegan options will increase in both supermarkets and restaurants…These trends will combine to make 2018 the best year yet, in which to follow a vegan diet.
Evidence: McDonald's is going vegan—at least in Sweden and Finland.
The sandwich, which has already been tested at a handful of McDonald's locations in Finland, consists of a soy patty, bun, tomato, lettuce, pickles, onion, ketchup, mustard, oil and an egg-less sandwich sauce…McDonald's said the burger will be on its permanent menu in the two countries, a response to "more and more" people wanting to eat "plant-based food" that is better for the environment.
Other evidence:
Mintel: Nearly 10% of new food launches in Sweden this year were vegan items, according to research firm Mintel. That's up nearly eight-fold from 2012.
Nestle: is buying the Sweet Earth, which makes vegan and vegetarian burritos and burgers.
Euromonitor: Global sales of vegan-labeled foods increased by nearly 8% last year to $12.8 billion.