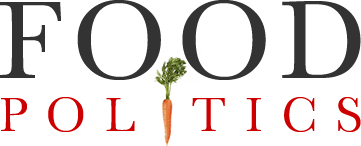 by Marion Nestle
Annals of food marketing: define "egg"?
Competition in the food service industry must be fierce these days.
My colleagues who are members of the Academy of Nutrition and Dietetics recently received this letter from a public relations firm working for Panera.
Subject: Panera's Quest to #RespectTheEgg

Did you know 50% of the top 10 fast casual restaurants that sell breakfast have an "egg" made of at least five ingredients, often more? That's why Panera has officially petitioned the FDA to establish a clear definition for the term "egg," in an effort to improve standards and transparency throughout the food industry.

In the meantime, customers can rest assured that when they order an egg at Panera, that's exactly what they're getting. Panera has launched a line of new breakfast sandwiches featuring 100% real, freshly cracked, cooked-to-order eggs with no additives at all.
In case this is a fit for anything you're working on, here is a link to more materials and images, including:

Panera's Official Press Release
An Infographic Comparing Competitor's Eggs and Breakfast Sandwiches (print size and JPG for social sharing)
Images of Panera's Breakfast Sandwiches
The FDA Petition
Panera's New & Improved Breakfast Menu

You can also find detailed nutrition info on Panera's new breakfast sandwiches here. Please let me know if you have any questions on Panera's quest to #RespectTheEgg!
The press release does not say what evil additives are used by Panera's competitors.  Fortunately, Forbes has a list.  Its top prize goes to Subway, but the others don't look much better.
Here's the ingredient list for Subway's Egg Omelet Patty (Regular):
Whole eggs, egg whites, water, nonfat dry milk, premium egg blend (isolated pea product, salt, citric acid, dextrose, guar gum, xanthan gum, extractive of spice, propylene glycol and not more than 2% calcium silicate and glycerin to prevent caking), soybean oil, butter alternative (liquid and hydrogenated soybean oil, salt, soy lecithin, natural and artificial flavors, beta carotene (color), TBHQ and citric acid added to protect flavor, dimethylpolysiloxane (antifoaming agent added), salt, beta-carotene (color).
Hey—eggs are the first ingredient.
Panera isn't really asking for a standard of identity for eggs.  It's asking not to count an egg as an egg if these kinds of things are added to it.
I can't wait to see what the FDA does with this one or if it even tries to attempt to draw the line between the items in the non-egg "premium egg blend" and additives like salt and pepper.