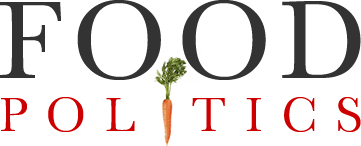 by Marion Nestle
Where are we on the Farm Bill?
The Congressional Budget Office (CBO) has scored the farm bill ("HR 2") meaning that they have estimated its costs.
Here's the CBO summary, and its key paragraph in perfect CBO-speak (I've divided the sentences up into bullets to make this a bit easier to read):
Relative to spending projected under CBO's April 2018 baseline, CBO estimates that enacting H.R. 2 would increase direct spending by $3.2 billion over the 2019-2023 period.
Following the rules specified in BBEDCA [Balanced Budget and Emergency Deficit Control Act], CBO has incorporated the assumption that the changes made to those programs would continue after 2023, the final year of authorization under the bill.
On that basis, CBO estimates that direct spending would decrease by $2.7 billion over the 2024-2028 period, for a net increase in direct spending of $0.5 billion over the 2019-2028 period.
CBO also estimates that enacting the bill would increase revenues by $0.5 billion over the 2019-2028 period.
Huh?  Got that?
Next, we have the National Sustainable Agriculture Coalition's analyses of key Farm Bill provisions.  Start with these from the bottom up for Farm Bill 101:
As for the Farm Bill itself:
Farm Bill (Nutrition on pp 223-305 /Nutrition Education on p. 292):
Section-by-Section (Nutrition Begins on p. 24/Nutrition Education on p. 30)