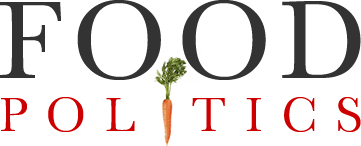 by Marion Nestle
Weekend reading: The Poison Squad
Deborah Blum.  The Poison Squad: One Chemist's Single-Minded Crusade for Food Safety at the Turn of the Twentieth Century.  Penguin Press, 2018.  
I already had received my copy of this book when Felicity Lawrence reviewed it in Nature along with my new book, Unsavory Truth.  What I loved about the review was Lawrence's comment that I "could make a fair claim to [Harvey] Wiley's mantle today…The book is a remorseless dissection of the corruption of science by industry."
But enough about me.  Blum's book is a clear, wonderfully written account of the political opposition faced by Harvey Washington Wiley, the head of the USDA's Bureau of Chemistry (later, the FDA) who relentlessly lobbied his bosses, presidents, and the public to insist that food companies produce food safely.
If you cannot understand why there are still so many outbreaks of foodborne illness and why so many foods are still having to be recalled, this book is a revelation.
Blum, who directs the Knight Science Journalism program at MIT, is terrific at explaining the complex politics that affected Wiley's work.
I particularly appreciated her chapter on the food safety laws passed in 1906.  Their passage came about, in part, as a result of Upton Sinclair's publication of The Jungle, a book that exposed the horribly unsanitary and dangerous conditions of the Chicago stockyards.
Try to imagine something like this happening today: the book came out early in January.  By July, Congress had passed food safety laws.  Blum's chapter explains how that happened.  Those events were news to me.
Much else in the book will also be news, even to people who follow food safety issues closely—the intensity of the opposition to everything that Wiley was trying to do.
Wiley was watching out for the disenfranchised, and in moral terms:
Wiley added that food quality and safety represented not only good science but also moral decision-making.  The wealthy, he pointed out, could easily afford fresh food and well-made condiments.  The trade in cheap, chemically enhanced imitations catered to the poor.  If the country could work to standardize good food, then it also would be promoting good health for all.  "Whenever a food is debased in order to make it cheap, the laboring man pays more for any given nourishment than the rich man does who buys the pure food," he pointed out. [p. 195]
We need leadership like that today.
I especially like the way Blum ends the book:
Of we are to continue moving in a direction that preserves what's best in this country, we need not romanticize the past but we must learn from what it tells us about our earlier mistakes.  The people who fought to correct those long-ago errors still have lessons to share.  The story of Harvey Washington Wiley, at his fierce and fearless best, should remind us that such crusaders are necessary in the fight.  That the fight for consumer protection may never end.  lBut if it does, if that long-awaited final victory is achieved, it will be because we, like Wiley, refused to give up. [p. 291]
Amen to that.