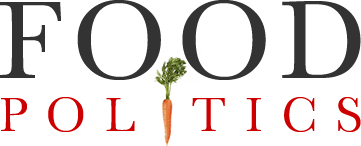 by Marion Nestle
Do probiotics work? Maybe, if you are lucky
The industry newsletter, NutraIngredients.com, regularly posts Special Editions on Probiotics, meaning collections of its articles on the topic.  These promote the benefits—to digestion and many other physiological and mental aspects—of eating healthy bacteria.   But do probiotics really work?  And could they actually be harmful?  See comments below these selected articles.
Baby faeces' 'good bacteria' a solid basis for disease-tackling probiotic supplement: 

'Good bacteria' found in infant faeces could form the basis of a probiotic supplement that could help lower disease risk as researchers point to babies' good health and absence of age-related diseases as good starting points…

Read

 

Survival of the fittest: Gut colonisation study could lead to gene-targeting probiotics: 

New probiotic products targeting individual genes for gut microbial diversity could be on the horizon after researchers outline a data-based approach that identifies the growth of beneficial microbes…

Read 

Use of probiotics linked to brain sluggishness and stomach bloating: Study:  

The use of probiotics could lead to a build-up of bacteria in the gut causing brain fogginess, US researchers conclude, as they also note its use is linked to bloating of the stomach…

Read

No BBC, probiotics are not 'quite useless': 

A new BBC article dismisses the benefits of probiotics because a study failed to find colonization. It is a serious mistake to confuse colonization with efficacy and we need to get this message across to consumers…

Read  

Delivery systems a 'determining factor' in probiotic success, suggests Lumina Intelligence: 

Delivery systems for probiotic supplements will determine probiotic storage, release time and viability through the body, according to recent research with these systems' ability largely determining product success…

Read  

Prebiotics as a concept still not well understood by many consumers, experts say: Research done by the Global Prebiotic Association shows that prebiotics as a concept is gaining traction with dedicated supplement users but has a long way to go to gain mainstream acceptance… Read
Focus on functional sports benefits seen as growing opportunity within microbiome research: Research in the effects of exercise on the microbiome has boosted not just a recent startup, but will fuel a growing category within the wider field of probiotics, an expert says… Read
Why PepsiCo, Coca-cola are betting on functional food and beverage brands: Legacy CPG companies PepsiCo and Coca-Cola have each snapped up or invested heavily in a functional food and beverage brand this year… Read
Highlights from the Harvard Probiotics Symposium: The recent Harvard Probiotics Symposium brought together scientific experts from across the globe to discuss: "Gut Health, Microbiota & Probiotics Throughout the Lifespan: Dietary Influences". Here's what we learned… Read
Prebiotic combination shows metabolic benefits for adults with acne: Pilot data: A combination of fructo-oligosaccharides (FOS) and galacto-oligosaccharides (GOS) prebiotics may improve glycemic and lipid metabolic measures in women with acne, suggests a small study from Italy… Read
Two recent articles in Cell raise questions about the benefits of probiotics.
In translation:
The murine [mouse] & human gut mucosal microbiome only partially correlates with stool
Mice feature an indigenous-microbiome driven colonization resistance to probiotics
Humans feature a person-specific gut mucosal colonization resistance to probiotics
Probiotic colonization is predictable by pre-treatment microbiome & host features
In further translation:
Not everyone responds to probiotics, which means that they may be worth a try and you may get lucky.
And an even more recent article in JAMA Internal Medicine questions whether probiotics might be harmful.  It warns about:
The safety of bacteria in probiotic supplements has not been fully established.
They can lead to infections and allergic reactions.
Probiotic supplements often do not meet manufacturing standards (identity, purity, strength, composition).
Introduction of new genes for antibiotic resistance into microbiomes.
The article concludes:
Consumers and physicians should not assume that the label on probiotic supplements provides adequate information to determine if consuming the live microorganism is worth the risk.
What to think about all this?  If you like yogurt, enjoy!  But supplements are another matter.