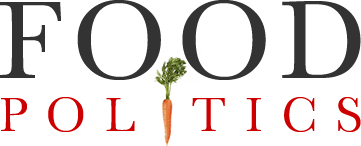 by Marion Nestle
Weekend reading: Science Breakthroughs for Agriculture
The National Academies of Science, Engineering, and Medicine has a new report out on Science Breakthroughs to Advance Food and Agricultural Research by 2030.
In the next decade, the major goals for food and agricultural research include (1) improving the efficiency of food and agricultural systems, (2) increasing the sustainability of agriculture, and (3) increasing the resiliency of agricultural systems to adapt to rapid changes and extreme conditions.
To that end, the committee that wrote this report examined "breakthrough opportunities that could dramatically increase the capabilities of food and agricultural science."
The breakthroughs?
A systems approach to understand the nature of interactions among the different elements of the food and agricultural system can be leveraged to increase overall system efficiency, resilience, and sustainability.
The development and validation of precise, accurate, field-deployable sensors and biosensors will enable rapid detection and monitoring capabilities across various food and agricultural disciplines.
The application and integration of data science, software tools, and systems models will enable advanced analytics for managing the food and agricultural system.
The ability to carry out routine gene editing of agriculturally important organisms will allow for precise and rapid improvement of traits important for productivity and quality.
Understand the relevance of the microbiome to agriculture and harness this knowledge to improve crop production, transform feed efficiency, and increase resilience to stress and disease.
I'm worried about how all this will help make agricultural production more sustainable.  For that, we need smaller scale, fewer chemical inputs, crop rotations, and other such methods.  I wish NASEM would do a serious study on agricultural sustainability.
Update, May 26: Benjamin Chaulet has translated this into French and posted it on his blog, nutrition-newage.com. Here is a pdf.