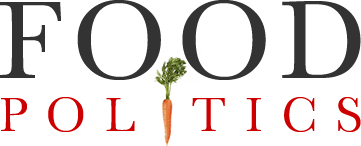 by Marion Nestle
Weekend reading: Kid Food (!)
Bettina Elias Siegel.  Kid Food: The Challenge of Feeding Children in a Highly Processed World.  Oxford University Press, 2019.
I did a blurb for this book but it is so good, so well written, and so important that nothing I can say can do it justice.
Everyone who cares about what kids eat must read Bettina Siegel's fabulous Kid Food.  This is a gorgeously written, heartfelt, and deeply compelling manifesto arguing why and how we must do better at feeding our kids more healthfully at home, in schools, and on the soccer field.  Kid Food provides the evidence and the resources; it should inspire all of us to get busy and start advocating for better kid-food policies—right now.
The book is a treasure for what it says about feeding kids in America today—an instant classic.  Its Appendix alone makes the book a must-have: it lists resources for how to feed kids but also for how to advocate for them.
I could have picked excerpts from anywhere in the book but I'm taking the easy route and quoting from the book's ending as an example of why this book is so worth reading.
Right now, American children are being shortchanged daily by a diet that feeds but doesn't nourish, that staves off immediate hunger but opens the door to later disease.  The factors leading to this tragic outcome are all too human: naked corporate greed; parental ignorance, confusion, and fatigue; practical necessity, for those who can't afford healthier food; and, in the case of "treats," even simple love and affection.   Improving the current paradigm will require not just pushing back against powerful corporate interests, but also shifting a deeply entrenched food culture.  That's a very heavy lift, but the difficulty of the task doesn't make it any less urgent or critical.  And the good news is, there is no shortage of opportunities to pitch in.