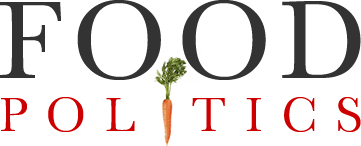 by Marion Nestle
Food crime? New term, old problem
Food crime is a new term in my lexicon.  I'm used to hearing it called food fraud or intentional adulteration.
As I learned from reading an article in Food Safety News, the Food Standards Agency in Great Britain established a National Food Crime Unit in the wake of the 2013 horsemeat scandal.
Examples of food crime include the use of stolen food in the supply chain, unlawful slaughter, diversion of unsafe food, adulteration, substitution or misrepresentation of food, and document fraud…Members of the public and those working in the food and drink sector can speak up about food crime through Food Crime Confidential.
The agency says it focuses on seven types of food crime:
theft – dishonestly obtaining food, drink or feed products to profit from their use or sale
illegal processing – slaughtering or preparing meat and related products in unapproved premises or using unauthorised techniques
waste diversion – illegally diverting food, drink or feed meant for disposal, back into the supply chain
adulteration – including a foreign substance which is not on the product's label to lower costs or fake a higher quality
substitution – replacing a food or ingredient with another substance that is similar but inferior
misrepresentation – marketing or labelling a product to wrongly portray its quality, safety, origin or freshness
document fraud – making, using or possessing false documents with the intent to sell or market a fraudulent or substandard product
The unit is not particularly forthcoming about its findings.  According to FoodManufacture.com, it took a freedom-of-information request to discover that the unit received 1193 reports of food crime in 2018, and 364 in the first three months of 2019.
The FOI request was filed by the Chartered Institute of Procurement and Supply, which reports these figures but does not seem to have a formal report online.
Bottom line: Food crime is the highest it has been in the UK since 2013.