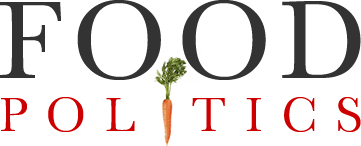 by Marion Nestle
The most trusted food brands: Really?
I am indebted to BakeryAndSnacks.com for this report on consumer [dis]trust of food products.
According to Morning Consult's first annual State of Brand Trust report, more than half of Americans say they have little or no trust in corporate America and the country's leadership.  In fact, Tom Hanks (34%) and Oprah (27%) are more trusted than either the US government (7%) or Wall Street (5%).  Fifty-four percent of consumers say they have little or no trust in corporations, while only 28% hold the same for the food and beverage industry.  But they do place conviction in brands like Cheerios, Oreos and Doritos.
The top five most trusted brands, according to this report, are the US Postal Service, Amazon, Google, Pay Pal and The Weather Channel.
As for foods:
The most trusted food brand was Chick-fil-A—ranking in sixth position—followed by Hershey in seventh spot, and Cheerios and M&Ms, No. 9 and No. 10, respectively.

However, despite the high level of trust placed in food and beverage brands, the industry does have its work cut out for it, as only 17% of Americans say they trust food labels.
The mind boggles.  We are doomed.