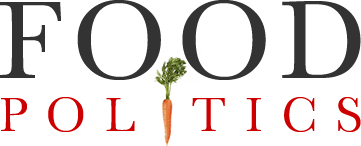 by Marion Nestle
Coronavirus: effects on the restaurant industry
Recall that Americans spend about half our food dollars on food consumed outside the home.   Therefore, the virus-induced closure of restaurants affects food supply chains, but it also affects restaurant workers, owners, operators, and patrons.
Restaurant workers
A survey by the New York State Restaurant Association says 80 percent of state restaurant workers have been laid off since the outbreak started—more than 527,000 people.
In a letter to Congress, the National Restaurant Association says 8 million restaurant employees have already been furloughed or laid off, or two-thirds of the entire workforce.
The New York Times reports that restaurants account for about 40 percent of COVID-19 related layoffs, the most of any industry.  This statistic is based on New York State Department of Labor data.
Restaurant owners
To get an idea of what this is like for small restaurant owners, read Gabrielle Hamilton's account in the New York Times Sunday Magazine: My Restaurant Was My Life for 20 Years. Does the World Need It Anymore?  Hamilton is the award-winning chef-owner of Prune, a small restaurant in Manhattan's East Village.
The Wall Street Journal reports that restaurant chains cannot adequately source masks and gloves for their employees.
Restaurant patrons
Tom Sietsema, the restaurant critic for the Washington Post, writes about what it feels like to not be able to go to restaurants.
Gee, do I miss the good old days. And boy, am I trying hard to summon them from home. Honestly, though, my new acquaintances Caviar, Postmates and Uber Eats can never replace all the in-the-flesh servers and chefs who have made Washington a premier restaurant destination in recent years.
The bailouts
Restaurants are having special problems with the government's forgivable loan program.  It turns out, the expansion of unemployment benefits authorized by the $2 trillion stimulus package sometimes pay workers twice their restaurant salary.
What?  Unemployment benefits pay MORE than restaurant work?  The shocking figures: unemployment benefits go to an average high of $970 per week, but this is nearly double average weekly pay within the food industry.
The $350 billion loan program quickly ran out of money when more than 46,000 loans were approved.   Food services firms got $30.5 billion.
Most of the money went to large restaurant firms: 'The Big Guys Get Bailed Out': Restaurants Vie for Relief Funds"
The provision, in a section outlining which small businesses qualify for loans from the federal government, allowed big chains like Shake Shack, Potbelly and Ruth's Chris Steak House to get tens of millions of dollars while many smaller restaurants walked away with nothing when the $349 billion fund was exhausted last week. On Monday, Congress and the White House were nearing a deal to replenish that fund with $300 billion in additional relief.  The inequity caused widespread outrage. Independent owners said it would create a post-pandemic landscape in which chains dominated and small, vibrant restaurants collapsed. Some lawmakers said the outcome had violated the spirit of the legislation.
Chains like Potbelly, Ruth's Chris Steak House and Taco Cabana qualified to get the maximum $10 million in loans even though they employed thousands of workers.
Some of these companies had been making money but spent it to buy back their own stocks.  As the New York Times reported "Some Companies Seeking Bailouts Had Piles of Cash, Then Spent It." Those companies, includingd KFC, Wendy's, and Papa John's, among others, asked for $145 billion in relief.
These companies had been highly profitable in recent years, yet they were seeking help from the federal government. Where had all their money gone? Like much of corporate America, the restaurant chains had spent a large chunk on buying back their own stock, a practice aimed at bolstering its price. Some were even more vulnerable to the economic shock because they had previously increased their borrowing — including to fund buybacks or pay dividends — and strained their credit in the process.
Some companies, embarrassed by the uproar, returned the funds.  The first to do so was Shake Shack (see Danny Meyer's statement) 
Now the restaurant industry wants its own targeted recovery fund, as it explained in a letter to Congress.
What will restaurants look like in the future?
For sure, they will be different.
The National Restaurant Association, which represents chain restaurants, issued new general guidelines.   These largely defer to government regulations, but leave most practices to owners' discretion.
Independent restaurant groups are trying to develop more detailed protocols.  They refer to a set of guidelines  issued by the founder of Black Sheep Restaurants in Hong Kong.
I hope that the revelations about how badly restaurant workers are treated and paid will inspire legislative action.
To me, the most shocking revelation is how restaurant workers who rely on tips do not qualify for unemployment insurance in some states because their salaries are so low that they do not meet earning requirements.  That has to change.