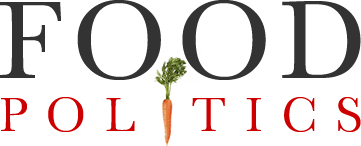 by Marion Nestle
Food companies respond to #BlackLivesMatter—and about time!
Here's progress, and about time too.  This long called for, and long overdue decision has been covered by CNN (6/17), New York Times (6/17), Food Dive (6/17), USA Today (6/18), and Reuters (6/18).
CPG firms review, overhaul black brand mascots:  Following Quaker Oat's decision to rebrand its Aunt Jemima line, the parent companies of brands Uncle Ben's, Mrs. Butterworth's and Cream of Wheat — all of which have black mascots — have plans to change or review the brands' logos and packaging. "[W]e are committed to evaluating our packaging and will proactively take steps to ensure that we and our brands do not inadvertently contribute to systemic racism," B&G Foods said about Cream of Wheat's chef image in a statement.
PepsiCo's CEO promises a complete overhaul:
So today, I am announcing the next step in PepsiCo's journey for racial equality: a more than $400 million set of initiatives over five years to lift up Black communities and increase Black representation at PepsiCo. These initiatives make up a holistic effort for PepsiCo to walk the talk of a leading corporation and help address the need for systemic change.
These changes are steps in the right direction.  To make them meaningful, companies must push for a cultural transformation and be willing to openly confront deeply embedded but sometimes unconscious attitudes and behavior.
Let's hope these promises result in real change.
For some context, take a look at Toni Tipton-Martin's, The Jemima Code: Two Centuries of African American Cooking, and her article about the retirement of the image in Sunday's New York Times.
And then there's this perfect image for food politics (source unknown, alas):
Addition
A reader, who wishes to remain anonymous, writes: "The removal of the Aunt Jemima image reminds me of artist Betye Saar's 1972 assemblage, "The Liberation of Aunt Jemima."  I see that Betye Saar has responded: "She's liberated! Finally at long last!"