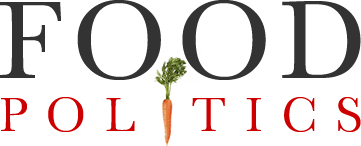 by Marion Nestle
Keeping up with COVID-19 and meat: items of interest
The meat industry is in deep trouble.  Even industry insiders are taking it to task.
I could hardly believe this piece in Forbes by Hank Cardello.  It sounds just like something I would write.
3 Ways To Fix The Meat Industry's Empathy Problem
The meat industry is antithetical to everything Millennials value. Their treatment of employees runs counter to Millennials' No. 2 value: empathy, according to a Gallup report. Their role in global warming is antithetical to Millennials' concern for the environment. Their price-fixing is antithetical to Millennials' demand for transparency and decency. Their role in promoting products increasingly linked to global warming and poor health is antithetical to the priorities of younger workers, who say they want to work for a company with a purpose.
And from Politico: A bipartisan group of senators is asking USDA to rethink regulations that create "impediments to a diversified meat processing industry," joining calls from House Republicans earlier this month to ease restrictions on product labeling, food safety inspections and other rules that they say keep small meatpackers from gaining a foothold in the highly concentrated sector.
The Senators' letter is here.   It notes:
Four beef processing companies control 80% of the market and they use high-capacity processing facilities to perform their work. This oligopolistic market structure has exhibited its weakness during COVID-19. When high-capacity processing facilities experienced outbreaks amongst employees, operations were forced to shut-offor slow down production, leaving the rancher with livestock they could not moveand the consumer with either empty grocery shelves or overpriced products.
And The Counter reports that China is refusing to buy meat produced by Tyson.
On Sunday, the Chinese government announced it would suspend imports of poultry from a Tyson plant in Springdale, Arkansas. By Tuesday morning, the country had also paused imports from a Brazilian beef supplier and a British pork company. All had reported cases of Covid-19 at their facilities.
So interesting, all this.