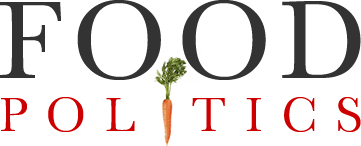 by Marion Nestle
Food marketing stunt of the week: Lightlife Burgers vs Impossible Foods and Beyond Beef
It's not enough that the meat industry is attacking plant-based alternative meat products (see my post on how the Zombie Center for Consumer Freedom took on that job).
Now, to my amazement, one brand is attacking another and in a full-page ad in the New York Times, no less.
Here's what it says:
Enough.  Enough with the hyper-processed ingredients, GMOs, unnecessary additives and fillers, and fake blood…People deserve plant-based protein that is developed in a kitchen, not a lab.
Really?  Lightlife burgers taking on Beyond Meat and Impossible Foods?  This so reminds me so much of the sugar industry taking on corn syrup and vice versa.
Does Lightlife have a case?
Food Navigator has a terrific comparison of the ingredients of plant-based burgers.  These are just the ones at issue here (there are more).
OK.  Lightlife has fewer ingredients, but it still looks plenty ultraprocessed.  Like the others, it:
Does not resemble the foods from which it is derived.
Is industrially produced.
Contains unfamiliar ingredients (e.g., pea protein, natural flavors, modified cellulose)
Cannot be made in home kitchens (unless you happen to have those ingredients as well as beet powder and cherry powder handy).
I don't buy that there is a significant difference here.
Impossible Foods calls this ad "cynical and disingenuous."  It also wrote an open letter of rebuttal.
The campaign leans on spurious arguments typically used by the meat industry: Attack Impossible's products not based on their indisputable quality, nutrition, wholesomeness or deliciousness, but based on the number of ingredients — a logic-defying concept with zero relevance to health or product quality, intended to distract consumers from the obvious inferiority of Lightlife and Maple Leaf's products.
Beyond Meat sent a statement to Food Dive
If Lightlife were clear on our ingredients, they would see that our food is made from simple, plant-based ingredients. With no GMOs. No synthetic additives. No carcinogens. No hormones. No antibiotics. No cholesterol. Our foods are designed to have the same taste and texture as animal-based meat, giving more consumers more options that are better for them and the planet.
From my standpoint, the differences between these products are minimal.
The real questions are about the relative benefits of meat versus plant-based alternatives.  A recent review in Frontiers in Sustainable Food Systems addresses those questions.  In my original post, I said "At best, it finds moderate benefits for nutritional vlue, greenhouse gas emissions, and land use, but no to limited benefits for the other measures it evaluated.  It found even less benefit for cell-based meats (which are not yet on the market)."  This, as explained below, misrepresents their findings, which refer only to the state of the research literature.
My bottom line?  These products fall in the category of ultraprocessed and are off my dietary radar.  I can hardly believe that attacking each other does any good for them or anyone or anything else.
Correction
Brent Kim, one of the authors of this study writes:
We wanted to clear up some confusion that seems to have arisen around one of our tables…Table 1, cited in your post, describes the degree to which those different impacts have been characterized in the literature. "Limited," for example, indicates that there has been a limited number of studies on the topic. It does not reflect our findings about the relative benefits.

To clarify, here's what we found:

Plant-based meat substitutes offered substantial reductions in greenhouse gas emissions, water use, and land use relative to farmed beef. The benefits compared to other meats (e.g., pork, chicken, fish) were less pronounced.
For cell-based meat, the potential environmental footprints were generally lower than those of farmed beef and comparable to or worse than those of other farmed meats and seafood… although further research is needed.
There has been limited research on nutrition, chronic disease, and food safety implications associated with consuming meat alternatives, and occupational and community health implications associated with their production.
For example, it is unknown whether replacing farmed meat with plant-based substitutes would offer similar nutritional and health benefits as compared to less-processed plant foods.
I stand corrected and reproduce this with Dr. Kim's permission.  To my bottom line above, I should have added: more research needed!