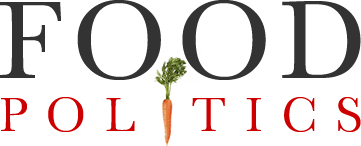 by Marion Nestle
OSHA fines meat packers for Covid failures (sort of)
I have complained previously how Covid-19 has exposed corporate capture of the Occupational Safety and Health Administration (OSHA), the federal agency ostensibly responsible for ensuring "safe and healthful working conditions for working men and women."
You don't believe me?  Try this.
U.S. Department of Labor Cites Smithfield Packaged Meats Corp. For Failing to Protect Employees from Coronavirus: The U.S. Department of Labor's Occupational Safety and Health Administration (OSHA) has cited Smithfield Packaged Meats Corp. in Sioux Falls, South Dakota, for failing to protect employees from exposure to the coronavirus. OSHA proposed a penalty of $13,494, the maximum allowed by law.
Or this.  U.S. DEPARTMENT OF LABOR CITES JBS FOODS INC. FOR FAILING TO PROTECT EMPLOYEES FROM EXPOSURE TO THE CORONAVIRUS: The U.S. Department of Labor's Occupational Safety and Health Administration (OSHA) has cited JBS Foods Inc. in Greeley, Colorado, for failing to protect employees from exposure to the coronavirus. OSHA proposed $15,615 in penalties.
They have to be kidding.  We are talking here, according to Leah Douglas's statistics, about how more than 2500 Smithfield employees and more than 2700 JBS employees have been confirmed with Covid-19.
If these are the maximum penalties (!), how about assigning them to every one of those cases.
The companies can certainly afford it: Smithfield had $13.2 billion in sales in 2019, and JBS had $51.7 billion.
Never mind, even that pittance penalty is too high for the meat industry to accept.
Furthermore, Smithfield is appealing the fine.  A representative said the fine is
"wholly without merit" because the company took"extraordinary measures" to protect employees from the COVID-19 virus. And during the pandemic, Smithfield took direction from OSHA, the Centers for Disease Control and Prevention (CDC), and U.S. Department of Agriculture (USDA).
Translation: "It's not our fault.  It's OSHA fault, the CDC's fault, the USDA's fault.
That's not what the meatpacking workers' union says.
Today [September 10], the United Food and Commercial Workers (UFCW) International Union, which represents1.3 million workersin meatpacking plants and other essential businesses, condemned the new U.S. Department of Labor fine on Smithfield Foods as completely insufficient in the wake of the company's failure to protect meatpacking workers at its Sioux Falls, South Dakota which reported nearly 1,300 COVID-19 infections and at least four deaths among its employees. As the union for Smithfield workers at this plant, UFCW called today's fine by the Trump Administration insulting and a slap on the wrist that will do nothing to help those already infected or prevent future worker deaths.
It issued a similar statement on the JBS fine.
The meat industry has rallied to the defense of its Big Meat members.  To wit: Meat Institute Issues Statement on OSHA Citation Related to COVID-19.  
The meat and poultry industry's first priority is the safety of the men and women who work in their facilities [every time you read a statement like this, think of a red flag on the playing field—a warning that it means just the opposite]. Notwithstanding inconsistent and sometimes tardy government advice, ('don't wear a mask/wear a mask'/April 26 OSHA guidance specific to the meat and poultry industry) when the pandemic hit in mid-March, meat and poultry processing companies quickly and diligently took steps to protect their workers. Companies had to overcome challenges associated with limited personal protective equipment…Most importantly, as evidenced in trends in data collected by the Food and Environment Reporting Network and The New York Times, these many programs and controls once in place worked and continue to work. Positive cases of COVID-19 associated with meat and poultry companies are trending down compared with cases nationwide.
The Meat Institute actually has the nerve to cite Leah Douglas's data to support its defense—this, while meat companies are refusing to provide accurate data.  (Even the union cites much lower figures despite its reports of workers being forced to stay on the lines without masks despite being ill or risk losing their jobs).
It details its arguments that all those illnesses and deaths are OSHA's fault in yet another press release on September 14. 
I suppose we will now go through all this again for Tyson's, where more than 10,000 workers have become ill.
Expect another of OSHA's "slaps on the wrist" followed by the Meat Institute's objections.