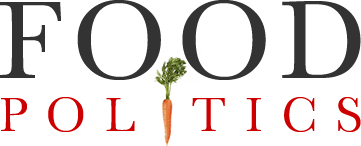 by Marion Nestle
Fox guarding chickens: OSHA's worker-safety partnership with the meat industry
The Labor Department's Occupational Safety and Health Administration (OSHA) has formed an alliance with the North American Meat Institute (NAMI) to
provide NAMI's members, workplace safety and health professionals, the meatpacking and processing workforce, and the public with information, guidance, and access to training resources that will help them protect workers by reducing and preventing exposure to Coronavirus 2019 (COVID-19), and understand the rights of workers and the responsibilities of employers under the Occupational Safety and Health Act.
NAMI's motto is "One unified voice for meat and poultry companies, large and small."  Its members are listed here.
OSHA's stated mission
With the Occupational Safety and Health Act of 1970, Congress created the Occupational Safety and Health Administration (OSHA) to ensure safe and healthful working conditions for working men and women by setting and enforcing standards and by providing training, outreach, education and assistance.
Do we see a potential conflict of interest here?  Indeed, we do.
Basically, the Alliance aims to
Share information…regarding potential exposure to COVID-19 and the challenges for exposure control in meat packing and processing facilities.
Develop information on the recognition of COVID-19 transmission risks and best practices.
Conduct outreach through joint forums, roundtable discussions, stakeholder meetings, webinars, or other formats on OSHA guidance and NAMI's good practices.
Speak, exhibit, or appear at OSHA and NAMI conferences…regarding good practices.
Encourage NAMI members…to utilize OSHA's On-Site Consultation Program to improve health and safety and prevent COVID-19 transmission.
This looks like meat industry propaganda to me.
As quoted by Food Dive, Marc Perrone, president of the United Food and Commercial Workers International Union, called the deal "an outrage." His statement:
Throughout the pandemic, employers have continued to keep workers and the general public in the dark about illness in the plants while trying to shield themselves from any liability for the role they played in the loss of life. It is shocking that the Department of Labor is now giving the meat industry even more power to police itself on worker safety.
He's not kidding.  The Food and Environment Reporting Network is tracking cases.  As of August 17, its figures show confirmed cases of Covid-19 in
474 meatpacking plants among 40,708 meatpacking work (189 deaths)
269 food processing plants among 8658 food processing workers (34 deaths)
No surprisae, workers have filed thousands of complaints with OSHA.
What has OSHA done for them?  It co-issued (with CDC) guidance on what companies ought to be doing about distancing and masking. 
Are companies following this guidelines?  Not with much conviction.
That is why workers have had to resort to filing lawsuits against Smithfield Foods and Tyson Foods—and OSHA—as summarized by ProPublica.
According to Politico (behind a paywall, unfortunately), the lawsuits reveal that OSHA admits that it is unable to police its own safety guidelines.
Although an inspector from OSHA's Wilkes-Barre Area Office witnessed employees working "2 to 3 feet" apart without physical barriers — which goes against the Centers for Disease Control and OSHA's safety recommendations — the agency concluded there was no "imminent danger" at the plant, the inspector testified during a July 31 hearing.
As always, it's hard to make up stuff like this.