Gleissner P, Kashdan HE, eds.  Resilient Kitchens: American Immigrant Cooking in a Time of Crisis.  Rutgers University Press, 2023.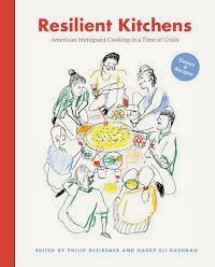 I enjoyed reading this book and did a blurb for it:
Resilient Kitchens collects the deeply personal accounts of immigrant chefs, writers, and scholars of how their experience as "other" informed their use of food and cooking to stay centered during the COVID-19 pandemic.  Their stories are vastly different but all bear on why food matters to much to personal identity.
Rutgers University Press describes it this way:
Resilient Kitchens: American Immigrant Cooking in a Time of Crisis is a stimulating collection of essays about the lives of immigrants in the United States before and during the COVID-19 pandemic, told through the lens of food. It includes a vibrant mix of perspectives from professional food writers, restaurateurs, scholars, and activists, whose stories range from emotional reflections on hardship, loss, and resilience to journalistic investigations of racism in the American food system. Each contribution is accompanied by a recipe of special importance to the author, giving readers a taste of cuisines from around the world. Every essay is accompanied by gorgeous food photography, the authors' snapshots of pandemic life, and hand-drawn illustrations by Filipino American artist Angelo Dolojan.

Contributions by Reem Kassis, Stephanie Jolly, Krishnendu Ray, Tien Nguyen, Bonnie Frumkin Morales, Mayukh Sen, Geetika Agrawal, Fernay McPherson, Antonio Tahhan, Sangeeta Lakhani, Keenan Dava, Tim Flores, Angelo Dolojan, Guillermina Gina Núñez-Mchiri, Harry Eli Kashdan, Philip Gleissner