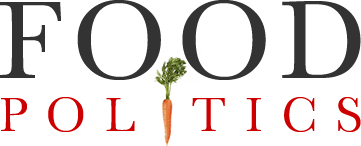 by Marion Nestle
Covid-19 infections among meat-packing workers: trends and analysis
One of the great revelations of the Covid-19 pandemic had to do with working conditions at meat-packing plants.  Keeping the plants open under crowded conditions led to rapid transmission of illness.
In the absence of government tracking, Leah Douglas of the Food and Environment Reporting Network (FERN) has been collecting and publishing data on cases and deaths among meat-packing, food production, and farm workers.
Here data show that as of July 1, "at least 90,166 workers (58,856 meatpacking workers, 18,155 food processing workers, and 13,155 farmworkers) have tested positive for Covid-19 and at least 400 workers (297 meatpacking workers, 60 food processing workers, and 43 farmworkers) have died."

Researchers have investigated the effects of those cases on the communities in which these workers live.  Their data show:
The presence of a large beef packing facility in a county increases its per capita infection rates by 110%
Large pork and chicken processing facilities increase transmission rates by 160% and 20%, respectively.
Over time daily case rates converge such that rates observed in meatpacking- and non-meatpacking counties become similar.
334 thousand COVID-19 infections are attributable to meatpacking plants in the U.S.
Associated mortality and morbidity costs total more than $11.2 billion.
The North American Meat Institute insists that that the meat industry's worker protections have made its case rate "more than 85% lower than rates in the general population (18.25 cases per day per 100,000 people) and more than 98% lower than the May 2020 peak in the sector (98.39 cases per day per 100,000 workers)."
The research study offers an explanation: infected workers infect communities.