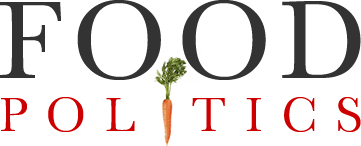 by Marion Nestle
Eating insects: the hot new food trend?
Apparently so.
They do have nutritional value, although studies of their nutrient composition are limited in number and scope and show high variability in results.  Nutrient composition is usually given in 100 gram (about 3 ounces) portions and that seems like a lot of insects, way more than anyone might eat at one time.  It's also hard to imagine how many insects you would need to get three ounces worth.
Some recent items on this topic, inspired by the hatching of the most recent Cicada brood.
Can you eat cicadas? Yes, and here's the best way to catch, cook and snack on them.  "Weiss says you could saute cicadas in butter with garlic, marinate them, roast them, toast like nuts and, of course, dip in chocolate like she did for her kids years ago. She has worked on a small book on cicadas, including information on food preparation, which will be available soon."
Don't eat cicadas if you're allergic to seafood, the FDA warns: Weeks after the arrival of Brood X, the buzzy swarm of cicadas that emerge from the ground every 17 years to cover trees and sidewalks across a swath of the country, federal health officials have a new warning: People with seafood allergies shouldn't eat the insects.
FAO highlights possible food safety issues with edible insects:  By Joe Whitworth on Apr 21, 2021 12:05 am The benefits of edible insects as an emerging food source must be weighed against potential food safety issues, according to the United Nations' FAO. While insects have been part of the diets of many cultures in various regions through the centuries, farming of them for human food and animal feed is relatively recent and not… Continue Reading 
Big bug boom: Health and sustainability biggest drivers as APAC governments increase backing for million-dollar edible insect industryGovernments and food industry players across the Asia Pacific region are providing increasing support to the insect-based food industry as an alternative protein source from South Korea to Australia, all touting health as sustainability as the sector's biggest drivers…. Read more 
Insect protein as beneficial as milk protein, find researchers:  Researchers in Denmark say mealworm protein and milk protein have the same performance on digestion, absorption, and on the ability to stimulate muscle production…. Read more
Here's the study comparing the proteins of lesser mealworms and milk: Ingestion of a meal-like amount of lesser mealworm–derived protein is followed by rapid protein digestion and amino acid absorption and increases muscle protein synthesis rates both at rest and during recovery from exercise. The postprandial protein handling of lesser mealworm does not differ from ingesting an equivalent amount of milk protein concentrate in vivo in humans.