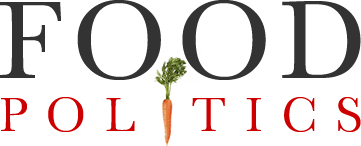 by Marion Nestle
Weekend reading: Peter Hoffman's food memoir ("foodoir")
Peter Hoffman.  What's Good: A Memoir in Fourteen Ingredients.  Abrams Press, 2021.
Peter Hoffman, the chef-owned of the much loved and late-lamented Savoy restaurant in Manhattan's SoHo has written an account of its rise and fall along with a close examination of what went into it, foods, ingredients, and emotions.
As I read it, this is two separate books joined together.  One is his version of how he got interested in food, learned about it, trained to cook, and started, ran, and eventually closed the Savoy.  This is a compelling narrative, despite its sad ending.  Full disclosure: I loved the Savoy.  The food was always interesting, the ambiance lovely, and the service warm and welcoming.
The second book is an almost academic discussion of specific ingredients and how Peter used them in his cooking.  These are fascinating and I learned something about every one of the ingredient chapters.  These are followed by a recipe using that ingredient.
The book's overall structure joins them together in sequence: memoir chapter, ingredient chapter, recipe.  Repeat.
In the midst of writing a memoir myself, I wanted more of the memoir and a faster moving narrative, but also greatly enjoyed the ingredient chapters.  These cover such things as maple syrup, garlic scapes, rosemary, and ice.  I particularly loved the chapter on garlic scapes because there is a large patch of wild garlic growing near my house upstate in Ithaca.  Now I know what to do with the scapes when they appear.
Peter writes well.  Here are a couple of excerpts.
From a memoir chapter: My Spring Awakening:
With Bocuse as a beacon to steer towards, I devised a plan of escape from the tyrannical narrowness of high school.  I'd test the culinary waters by taking a year off—now called a gap year—and get a cooking job.  My parents were supportive, some of their friends mortified.  I remember fighting back tears of fury at my dad's best friend;s insistence that I'd never go to college if they let me take a uear off, a slippery slope into hell, implying that my parents' permissiveness was a grave mistake.  I persisted with my plan, doubling up on core requirements, taking English literature in summer school, and graduated a year early.  I moved to Vermont, worked construction in a hotel renovation, and parlayed that into my first kitchen job in the hotel's kitchen as a dishwasher and prep guy, at a place called Topnotch, where the food was anything but.   (p. 49)
From the ingredient chapter, Garlic:
Keith's garlic was different.  At the cutting board I immediately noticed that there was less surrounding leaf paper; the cloveswere generally all the same size, a single row circulating around a hard inner stem, the hard-neck; and easy to peel, maybe even pleasurably so, especially after countless instances of having my fingers gummed up with garlic oil and lots of thin clove paper confetti.  Roasted, the flesh was creamy and sweet; rubbed raw on some toasted bread for bruscchetta it was delightfully pungent, not at all acrid; and tossed into a mushroom sauté with chopped parsley and oive oil, Italy's culinary holy trinity, it rounded out the perfect balance of earthy, herbal, and fruity flavors.  This wan't just well-seasoned food, this food sang.  (p. 137)
I enjoyed reading this, but it made me hungry.