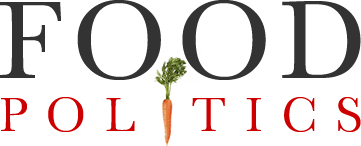 by Marion Nestle
Good news #1: Extension of universal school meals
Readers have written me to point out that my posts rarely cover good news, and that they badly need to hear some.
Point taken: I devote this week's blog to good news items.
Let's start with Friday's announcement that the USDA will extend universal school meals through June 30, 2021 (you can read the entire announcement here).
Is this an election-year ploy?  Maybe, but it's the first thing Trump's USDA has done that I think is worth doing.
It must have happened as a result of strong advocacy pressure.  I say this because, as The Counter's Jessica Fu reported in August, the USDA was determined not to extend free meals to school children, arguing that it did not have the authority to do so.
"While we want to provide as much flexibility as local school districts need during this pandemic, the scope of this request is beyond what USDA currently has the authority to implement and would be closer to a universal school meals program which Congress has not authorized or funded," Secretary of Agriculture Sonny Perdue wrote in a letter last Thursday explaining the decision.
But a week later, the USDA did extend the universal meals program through the end of December this year.
Now it has extended that extension through the end of this school year.
Yes!
This means, as the announcement says, USDA will:
Allow…meals to be served in all areas and at no cost;
Permit meals to be served outside of the typically required group settings and meal times;
Waive meal pattern requirements, as necessary; and
Allow parents and guardians to pick-up meals for their children.
Universal school meals:
Ensure food justice for children
Make sure all children are fed
Avoid stigma
Avoid expensive and cumbersome exclusionary paperwork
So this is good news, but there's more work yet to do.
Make sure those meals are healthy and do adhere to nutrition standards.
Make universal school meals permanent.
My go-to reference on this topic: