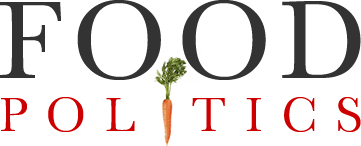 by Marion Nestle
Overhyped food of the week: peanuts!
The Peanut Institute is working overtime to convince you to eat more peanuts.
Disclaimer: I love peanuts and think they are great to cook with and make an excellent snack—peanut butter too—but I see no need to overhype them, as this press release does.
Research Reveals Daily Dose of Peanuts Delivers Body and Mind Benefits: Americans Encouraged to Pause for Peanuts…Peanuts are a superfood so just a small amount can fend off mid-morning hunger, help eliminate the afternoon slump and deliver much-needed brainpower.
"Superfood," I must remind you, is a marketing term.  It has no nutritional meaning.  All fruits, vegetables, grains, beans, and, yes, nuts, have nutritional value.  On that basis, all plant foods are "superfoods."
The press release makes these claims, and provides references for most of them:
Regular peanut consumption has been associated with a reduced risk of heart disease, diabetes and numerous kinds of cancer.
An ounce of peanuts packs more protein than any other nut.
Peanuts stimulate peptide YY, a hormone that decreases appetite.
Peanuts also have a low glycemic index that helps stabilize blood sugar to prevent the feeling of 'crashing' in the afternoon.
 A single serving of peanuts is packed with 19 vitamins and minerals, including the antioxidant resveratrol, which has been shown to increase blood flow to the brain.
Peanuts also contain high levels of niacin and are a good source of vitamin E – two nutrients that support brain health and have long been known to protect against Alzheimer's disease and age-related cognitive decline
Eating peanuts twice a week can reduce the risk of premature death by 12% and reduce the risk for certain cancers, including colorectal, gastric, pancreatic and lung cancers.
Regular consumption can also reduce the risk of death due to heart disease by 24%, respiratory disease by 16%, infections by 32% and kidney disease by 48%.
As I read the research on peanuts, it associates eating nuts of all types with good health.   Is there something distinctive about peanuts as compared to other kinds of nuts?
I doubt it—all nuts are worth eating.
A basic prinicple of nutrition is to vary food intake.  You love peanuts (as I do)?  Eat them, but go easy on the salt.