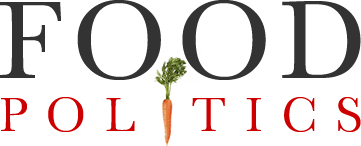 by Marion Nestle
Weekend reading: Potato Politics
Rebecca Earle.  Feeding the People: The Politics of the Potato.  Cambridge University Press, 2020.
The historian Rebecca Earle uses the potato as an entry point into investigations of some of the most important political issues of our time: immigration, free-market capitalism, and globalization.  As she puts it, her book
offers a deep history of the concept of food security and fresh account of how eating became part of modern politics.  It also helps to explain our own fraught relationship with dietary guidelines by showing how healthy eating became embedded within a neoliberal framework valorising personal responsibility and choice rather than state-led intervention" (p. 3).
A couple more excerpts to give you an idea where she is headed with this.  Malthus, she says, had a "dismal vision of catastrophic population increase."  With this vision
came pessimism about the potato's capacity to contribute to national well-being.  Far from increasing trade and boosting economic exchange, the potato bcame an obstacle to modernity, because it helped sustain precisely the sectors of the population that capitalism aimed to eradicate" (p. 141).
Later, she describes the Peruvian International Potato Center (its Spanish acronym is CIP):
Peru is not alone in its gastronational celebration of local potato varieties.  A number of countries, from Denmark to Ecuador, have likewise established national potato days, or sought to protect specific varieties under international legislation…International regulatory structures thus help to nationalise potatoes by according them formal status as part of the national patrimony.  Its long history as an overlooked, localised food resource now enables the potato to toggle between the global food system and notions of culinary heritage, in a way that other major commodities such as sugar or maize have largely failed to do (pp. 197-198).