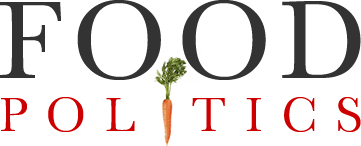 by Marion Nestle
Industry-funded study of the week: fruit juice
If you are a marketer of fruit juice, you have a problem.  Fruit juice has a lot of sugar and retains little of the fiber of whole fruit.  Dietary recommendations increasingly suggest limits on the amounts consumed, especially for children.
But according to the trade group, the Juice Products Association, "The 2015 Dietary Guidelines for Americans and the American Academy of Pediatrics (AAP) concur that 4 to 6 ounces of 100% fruit juice per day is appropriate for young children. For children age 7 and older, the AAP recommends a daily serving of 8 to 12 ounces per day."
No it does not!  The American Academy of Pediatrics suggests a limit to that amount.  Big difference.
Juice should not be introduced into the diet of infants before 12 months of age unless clinically indicated. The intake of juice should be limited to, at most, 4 ounces/day in toddlers 1 through 3 years of age, and 4 to 6  ounces/day for children 4 through 6 years of age. For children 7 to 18 years of age, juice intake should be limited to 8 ounces or 1 cup of the recommended 2 to 2.5 cups of fruit servings per day.
What about adults?  Adults do not need more sugars or the calories they provide.   They too would be better off eating fruit.
Juice trade associations to the rescue.
The study:  100% Fruit juice intake and cardiovascular risk: a systematic review and meta-analysis of prospective and randomised controlled studies. Lanfranco D'Elia, et al.  European Journal of Nutrition (2020)
Methods: This is a meta-analysis of prospective studies and randomized controlled trials (RCTs) examining the relationship between consumption of 100% fruit juice (FJ) and the risk of cardiovascular disease (CV).
Conclusions: "The results of these analyses indicate that 100%FJ consumption is not associated with higher CV risk. A non-linear inverse dose–response relationship occurs between 100%FJ consumption and CV disease, in particular for risk of stroke, probably mediated by the decrease in blood pressure."
Funding: "Open access funding provided by Università degli Studi di Napoli Federico II within the CRUI-CARE Agreement. This project was funded by the European Fruit Juice Association (AIJN) via an unrestricted grant. AIJN was not involved in the design, conduction, analysis and interpretation of the results."
Comment: Why would anyone think that fruit juice, of all things, would be associated with heart disease risk?  You would have to be drinking a lot of it —at the exclusion of healthier foods—for it to make  a significant difference.  The only point of this study is to try to convince adults to drink more juice.  When I was a kid, fruit juice was expensive and we drank it in 4-ounce glasses.  If you drink fruit juice at all, that's still a good idea.