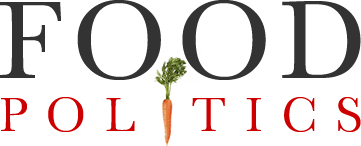 by Marion Nestle
Trump's Covid stimulus bill: how it affects food and nutrition
I'm trying to make sense of the new $900 billion stimulus bill signed by President Trump a week or so ago.  This is not easy to do; it's 5500 pages of government-speak.
The bill has $26 billion for food and nutrition, of which half goes to Big Ag (sigh) and the other half to food assistance (good, but not enough).
Why the sigh for farm aid?  Here's what the accounting looks like:
Big Agriculture: $13 billion on top of what else it got in 2020
$32 billion from the initial CARES Act
$4 billion as compensation for the trade war with China
$16 billion from the normal Farm Bill subsidies
$13 billion from the new stimulus package ($1.5 billion is for buying food products, including seafood)
Small Ag:  $225 million (not billion) for growers of specialty crops like fruits, nuts and vegetables.
SNAP: a 15% expansion through June 2021.  This will mean a lot to recipients, but it's still not enough.
SNAP Fruit and vegetable incentives: $75 million (not billion) for the Gus Schumacher Nutrition Incentive Program,
Pandemic-EBT: this authorizes extra benefits for families who have kids normally getting subsidized school meals (but this has been delayed)
Food banks: $400 million (not billion) for the Emergency Food Assistance Program, $400 million (not billion) for milk,
Disadvantaged, veteran, and beginning farmers: $75 million (not billion)
International Food Assistance: $1.74 billion for Food for Peace grants and $230 million for the McGovern-Dole International Food for Education and Child Nutrition program (note that this is the most the US has ever spent for these programs.
Pet foods: By congressional directive:
FDA is directed to provide an update on the investigation it is undertaking regarding canine dilated cardiomyopathy (DCM) and the manner in which it has released information to the public. The update shall include: the case definition FDA uses to include or exclude cases and the scientific work ongoing at the agency and with collaborating partners for identifying a causation of DCM; how FDA distinguishes cases of DCM due to genetic predisposition in certain breeds; how the agency plans to work with pet food companies and the veterinary cardiology community during the investigation; and the timing and nature of any future public reporting.
PFAS (Per- and polyfluoroalkyl) chemicals in food packaging: "directs FDA to review any new scientific information pertaining to PF AS chemicals and determine whether food packaging continues to meet the safety standards of a reasonable certainty of no harm under intended conditions of use."
Restaurants: they get whatever they can out of the $284 billion Paycheck Protection Program.  The trade association for independent restaurants points out that this is nowhere near enough.  Even the Wall Street Journal says restaurants need help; their situation is bleak.
Business lunches: the full cost can now be deducted as a business expense, but nobody expects this to help restaurants much.
There is undoubtedly more, but that's enough for now.
Politico has done a great job of covering these provisions, but is behind a paywall.  The Counter also has an especially good summary..