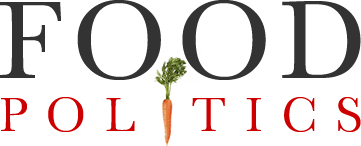 by Marion Nestle
Weekend reading: the history of pigs in America
J.L. Anderson.  Capitalist Pigs: Pigs, Pork, and Power in America.  West Virginia University Press, 2019.
I saw this book in the office of my food historian colleague, Amy Bentley, and snatched it up.
I love the title.
The book is a well researched history of pigs, feral and domestic, in the United States, from colonial times to the present, from free-range to CAFO, from waste as fertilizer to waste lagoons, and from lard to lean.
The book is fabulously illustrated with dozens of reproductions of etchings, drawing, and photographs of pigs in all their glory, as well as their confinement and butchery.
If you want to know how pigs arrived in America, how farmers treated them, how their numbers grew, and their place in U.S. diets, this book has it all.
But for me, the title is the best part of this book.  I was disappointed in its lack of a more forceful discussion of how pigs exemplify larger issues of corporate power and capitalism in today's society.  The index has not one listing for "capitalism," "neoliberalism," or "pig industry."
Unless I missed others, only two sentences bear directly on "Pigs, Pork, and Power:"
What about the farmers who continue in the pig production business, including the large-scale enterprises, contractors, and independent producers?  While it is difficult to generate much sympathy for the corporate leaders and integrators who are more concerned about shareholders and the bottom line than about communities, it is important to remember that many farmers and farm wage workers care about the animals they raise and the communities in which they live (p. 220)
For a recent update on the politics of pig farming, see Charlie Mitchell and Austin Frerick's The Hog Barons, on Vox (April 19).  This article focuses on Jeff Hansen, Iowa's largest hog producer.
Hansen's company, Iowa Select Farms, employs more than 7,400 people, including contractors, and has built hundreds of confinement sheds in more than 50 of Iowa's 99 counties. Since they began to arrive in the 1990s, these sheds have provoked controversy. Citing damage to health, livelihoods, property values, the environment, and the farm economy, rural communities in Iowa have campaigned fiercely against them.  While their efforts have yielded small victories, they have lost the war: The state's hog industry, led by Hansen, has cultivated close relationships with state politicians on both sides of the aisle to roll back regulations, and confinements have flooded the countryside. The Hansen family's charitable efforts have seemingly solidified these ties; it's not unusual for a sitting governor to attend a charity gala thrown by the Hansens.