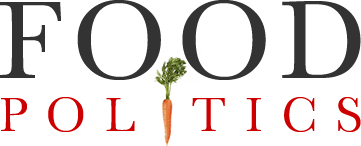 by Marion Nestle
Weekend reading: Can Fixing Dinner Fix the Planet?
Jessica Fanzo.  Can Fixing Dinner Fix the Planet?  Johns Hopkins University Press, 2021.
This is a small book, 4′ x 6″ format, 214 pages.  I did a blurb for its back cover:
Jessica Fanzo argues that dinner not only can fix the planet, but must.  The cutting edge of nutrition policy today is to promote diets that simultaneously achieve three goals–reduce hunger, prevent chronic disease, and protect the environment—and this means those lower in meat and higher in vegetables and other plant foods.  Read Fanzo's book.  It is beautifully written, authoritative, and utterly convincing—essential reading for anyone interested in food system approaches to world food problems.
A couple of excerpts:
The foods we eat are much more than just a source of sustenance.  They have direct and substantial impacts on the nutrition and health of individuals and populations, the planet's natural resources and climate change, and structural equity and social justice challenges of societies.  Food connects us to the world.  It also dictates (to a degree most people don't realize) the kind of world we live in today and the kind of world we will occupy in the future (p. 3)

Do animal-source foods support or harm sustainability and health outcomes?  In reality, they do a bit of both.  Climate change is not the only measure of sustainability.  Sustainability also describes human and animal health outcomes and well-being, equity, and security.  Often, discussion about the sustainability of animal-source foods neglect to include the effect that low consumption of animal-source foods has on the lives and futures of nutritionally vulnerable populations, women, and children.  Moving forward, we'll have to combine more sustainable livestock production practices with increased access and moderate consumption (p. 108).