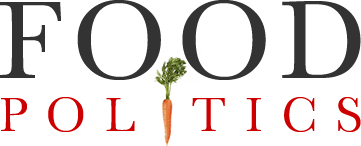 by Marion Nestle
Unethical food marketing ad of the week: infant formula, organic no less
When my partner, Mal Nesheim, showed me this ad in Sunday's New York Times, I had two immediate questions.
Question #1: Who paid for this?
The answer: Bobbie's Infant Formula "inspired by a mom's choice."
When I went to the website, I learned that Bobbie's infant formula is organic.  I am greatly in favor of organics, but just as organic junk food is still junk food, organic infant formula is still infant formula.
Breast feeding isn't easy in today's society and yes, some mothers (and fathers, of course) can't do it.
But breast feeding is unquestionably best for babies.  Mothers who can breast feed need all the help and encouragement they can get.
That's why this week has been designated World Breastfeeding Week.
Breastfeeding mothers do not need to be undermined by infant formula marketing.
If Nestlé (no relation) or the other leading infant formula manufacturers put an ad like this in the paper, the result would be worldwide outrage.  This leads to my second question.
Question #2: Doesn't this ad appear to violate the World Health Organization's International Code of Marketing of Breast-milk Substitutes?
OK, so the ad does not display infant formula products or even say that Bobbie's is an infant formula company, let alone an organic one.  But it doesn't take much to figure both out.
Recall the Nestlé boycott of  the 1980s, a worldwide boycott of the company because of the way it marketed infant formula to women in low-resource countries without clean water supplies.  The women were unable to use the products safely; contaminated or improperly diluted infant formula sickened and killed babies.
Opposition to Nestlé's marketing strategies led to development of Marketing Code, now ratified by all WHO member nations (the United States and South Africa were the two holdouts, but both eventually agreed).
The boycott was so damaging to Nestlé's sales and reputation that the company discusses it and defends its current marketing practices on its website.
If you have any concerns about our breast milk substitutes marketing practices, we encourage you to raise them with us so that we can continue to improve.
I'd say this Bobbie ad is morally and ethically wrong on four counts:
It undermines breast feeding
It directly undermines the intent of World Breastfeeding Week.
It violates the spirit if not the letter of the International Marketing Code.
It organic washes—it implies that because its products are organic, this company is above the Code.
This is the kind of marketing that gives organics a bad name.
Bobbie's should not be doing this.
Time for another boycott?