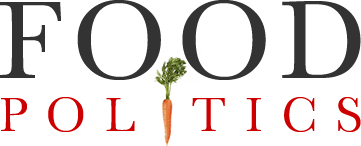 by Marion Nestle
Lab-based meat: the latest
Eating less meat is good advice for the health of people and the planet.  How to do that?  The makers of cell-based meat substitutes say they are the solution to this problem.  But are they?  They aren't on the market yet, except in Singapore, so the jury is still out.
Public interest
A taste for lab-grown meat: In an online poll, 19 percent of American adults responded "Yes, I am eager to try" cell-cultured meat when it becomes available, while 78 percent of meat eaters said they would prefer "real meat" in the long run. (Piplsay)
The rationale
The film: Meat Me Halfway is a just-released documentary from the Reducitarian perspective, which argues that any reduction in meat intake is a help, any way it happens.  One way is to substitute cell-based meat.  Take a look.  I found the film interesting and compelling, and not just because I'm one of the talking heads in it.
The forthcoming products
Bacon:  Sales of Vegan Bacon Are On the Rise as More Brands Hit the Market.  Plant-based producers are attracting notable funding for a market not yet taken over by Impossible Foods and Beyond Meat.
Milk: Tech fantasy or a liquid goldmine? BioMilk goes public:  Visitors to BioMilk's website are asked a simple question: 'What is milk?' a question that – until relatively recently – had a pretty obvious answer: the white stuff lactating mammals produce. Today, however, there's plant-based milk; there are products containing selected components of mammalian milk produced via microbes in fermentation tanks; and now the final frontier: cell-cultured milk…. Read more
Chicken: Memphis Meats Re-Brands as UPSIDE Foods, Announces Cultured Chicken as its First Product.  Press release.
Caviar: the mass-market health food star of the future? A British company is developing the world's first lab-grown 'compassionate' caviar to allow more people to experience the delicacy's unique taste and nutritional benefits…. Read more
Foie Gras: Gourmey, a start-up based in Paris, received an additional $10 million in seed funding this week. The company hopes to find a market in the United States amid growing concerns about animal cruelty.
The business (follow the money)