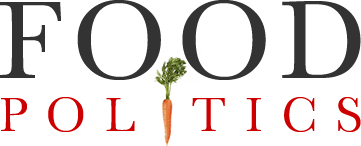 by Marion Nestle
Who is responsible for public distrust of GMOs? Monsanto, anyone?
In my view, one of the strongest reasons for public distrust of GMOs is the behavior of the GMO industry, with the secretive, aggressive, corporate behavior of Monsanto as the most glaring example.
I saw this myself.
In the late 1990s, I was at a meeting of food industry executives, among them the CEOs or high ranking officials of several agricultural biotechnology companies, including Monsanto.
The others were openly furious with Monsanto's CEO for ruining public trust in their products: "You have ruined this for us."
But Monsanto's reputation did not stop Bayer from buying the company in 2018 (for $63 billion, no less), something it—and its stockholders—must surely regret (some are suing the company).
As Carey Gillam of US Right to Know has just reported, "Appeals court rejects Bayer's bid to overturn Roundup trial loss and slams company for "reckless disregard" for consumer safety."
In a decision handed down on Monday, the 1st Appellate District in the Court of Appeal for California rejected Monsanto's bid to overturn the trial loss in a case brought by husband-and-wife plaintiffs, Alva and Alberta Pilliod.
This is the third trial in which juries awarded millions of dollars to plaintiffs who claimed that they developed non-Hodgkin lymphoma as a result of exposure to Monsanto's Roundup herbicide.
To head off subsequent trials, Bayer said it would pay about $11 billion (yes, billion) to settle about 100,000 pending cases, and would pay $4.5 billion more to offset further liability for Roundup claims.  Bayer also announced it would stop selling Roundup and other glyphosate herbicides for home use in the US by 2023 (but it will still sell Roundup to farmers.  And it is taking its case to the Supreme Court to get a reversal of a cancer-claim case.
What I find remarkable about the Pilliod decision is the judge's scathing comments on Monsanto's corporate behavior.  As quoted by Gillam:
"Monsanto's conduct evidenced reckless disregard of the health and safety of the multitude of unsuspecting consumers it kept in the dark. This was not an isolated incident; Monsanto's conduct involved repeated actions over a period of many years motivated by the desire for sales and profit."
Monsanto acted with a "willful and conscious disregard for the safety of others." Monsanto "failed to conduct adequate studies on glyphosate and Roundup, thus impeding discouraging, or distorting scientific inquiry concerning glyphosate and Roundup."
"But rather than fairly stating all the relevant evidence, Monsanto has made a lopsided presentation that relies primarily on the evidence in its favor. This type of presentation may work for a jury, but it will not work for the Court of Appeal."
 "Summed up, the evidence shows Monsanto's intransigent unwillingness to inform the public about the carcinogenic dangers of a product it made abundantly available at hardware stores and garden shops across the country."
Or try this footnote:
The effects of all this on Bayer's stock prices?
Other People vs. Monsanto/Bayer cases are in the works.  Stay tuned.