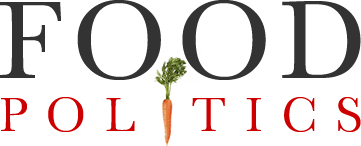 by Marion Nestle
Monsanto: the worst stock of 2010?
Some investment analysts have annointed Monsanto, the 800-pound gorilla of the food biotechnology industry, as the worst stock of the year.  Whether or not the company is really doing that badly, it is not having a good year.
For starters, its income  fell by half since its last fiscal year.
That's bad news, but there's more.  Just in the last few weeks:
Monsanto's SmartStax corn which has been bioengineered to contain eight inserted genes turns out to produce yields that are no higher than those from the less expensive GM corn containing only three inserted genes.
Sales of Monsanto's Roundup herbicide are way down since it went off patent.  Farmers prefer to buy the cheaper Chinese generics.
More and more weeds are becoming resistant to Roundup.  To kill them, farmers have to buy other, more toxic herbicides, defeating the whole point of using this herbicide.
The Justice Department has Monsanto under investigation for possible antitrust violations.
It's almost enough to make you feel sorry for the company.
Maybe Monsanto could take the present crisis as a sign that it's time to make some real effort to elicit public support.  How about petitioning the FDA to allow GM foods to be labeled, for starters?
Hey, I can dream.