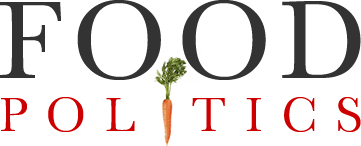 by Marion Nestle
The "Thanksgiving" cookie price index and farmer's share
I cannot resist sharing information from a press release I received from sweetspotpr.com about something called The Christmas Cookie Price Index.
This comes from a study computing the cost of cookie ingredients in 60 US cities and 30 countries (People do this things?  Apparently, yes).
The most expensive place to bake Christmas cookies in the US is San Diego, California at $12.40 per batch, followed by Burlington, Vermont ($12.08) and Los Angeles, California ($11.41).
Charleston, South Carolinais the cheapest place in the US to bake Christmas cookies at $2.23 per batch, followed by Charleston, West Virginia ($2.90) and Des Moines, Iowa ($4.13).
Sweden is the most expensive country to bake Christmas cookies ($12.83), followed by the Dominican Republic ($11.74),Denmark ($10.97), New Zealand ($10.57), Russia ($9.81) and Switzerland ($9.75).
Ecuador is the cheapest place to bake Christmas cookies at $3.50 per batch, followed by Poland ($3.62),Spain ($3.80), Germany ($4.04) and Chile ($4.20).
I didn't think this could wait until Christmas.  I knew you would want to know this in time for Thanksgiving.
And from the National Farmer's Union,
Enjoy the day and the weekend!
FoodPolitics.com will be back on Monday after the Thanksgiving holiday break.