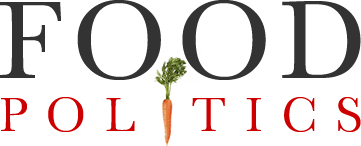 by Marion Nestle
Good news: Another White House Conference on Food
If you are plenty old, or up on your history of US nutrition policy, you might remember the 1969 White House Conference on Food, Nutrition, and Health.
Tufts held a 50th anniversary conference at which I spoke (videos of the talks are here–I was on Panel 3 starting at about 17 minutes in).
In early December 1969, President Richard M. Nixon convened the first and only White House Conference on Food, Nutrition and Health to "put an end to hunger in America for all time" and improve the nutritional well-being of all Americans at a time when malnutrition was of urgent national concern. The agenda of the Conference was to draft recommendations that could be implemented by a bipartisan coalition into national nutrition policy.
The conference was notable for Nixon's amazing speech kicking off the conference.
We see, then, that the problem of hunger and malnutrition is, really, two separate problems. One is to insure that everyone is able to obtain an adequate diet. The second is to insure that people actually are properly fed, where they have the ability to obtain the adequate diet.

On the one hand, we are dealing with problems of income distribution. On the other hand, with problems of education, habit, taste, behavior, personal preferences-the whole complex of things that lead people to act the way they do, to make the choices they do.
Look at what Nixon was proposing:
For the first time–Mr. Moynihan [Counsellor to the President] please notice–for the first time, this new family assistance plan would give every American family a basic income, wherever in America that family may live. For the first time, it would put cash into the hands of families because they are poor, rather than because they fit certain categories. When enacted, this measure alone will either supplement the incomes or provide the basis for the incomes of 25 million American men, women, and children.
The conference was also notable for its hundreds of recommendations—among them, free food stamps, cash income supports, transfer of food assistance out of the USDA.  We didn't get the Universal Basic Income but we did get food stamps (now SNAP), school meals,and other useful policies.
The Tufts program kicked off demands for another White House Conference, and it looks like we may actually get that.
Congress allotted $2.5 million for a White House Conference on Food, Nutrition, Health, and Hunger in the FY22 omnibus spending package (see page 112), as part of efforts to end hunger.
The conference should be developed using a whole-of-government approach- in partnership with the Executive Office of the President, the Department of Agriculture, and other Federal agencies-and in consultation with State, territories, local, and Tribal officials, and a diverse group of interested parties from across the country, including anti-hunger, nutrition, and health experts; the private sector; and people with lived experience of hunger and nutrition insecurity. The conference should examine why hunger and nutrition insecurity persist and how they affect health, including their role in the high prevalence of chronic disease. It should also review existing and crossdepartmental strategies and consider new approaches to improve health by eliminating hunger, reducing the prevalence of chronic disease, and improving access to and consumption of nutritious foods in accordance with Dietary
Guidelines for Americans.
The conference was called for in bills S. 3064 sponsored by Senator Cory Booker (D, NJ) and Mike Braun (R, IN) and H.R. 5724 sponsored by House Rules Chair Jim McGovern (D, MA) and Jackie Walorski (R, IN).
HHS is to work with other federal agencies to "report initial findings" to the Hill about conference plans probably by late July.
This is great news.  Can't wait to see how this develops.