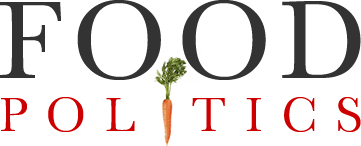 by Marion Nestle
Weekend reading: State of the world's food resources (hint: declining fast)
If you are up for a dose of reality, try this report from the Food and Agriculture Organization of the U.N.
It does not have much good news.  The key challenges:
Human-induced soil degradation affects 34 percent – 1 660 million hectares – of agricultural land.
More than 95 percent of our food is produced on land, but there is little room for expanding the area of productive land.
Urban areas occupy less than 0.5 percent of the Earth's land surface, but the rapid growth of cities has significantly impacted land and water resources, polluting and encroaching on prime agricultural land that's crucial for productivity and food security.
Land use per capita declined by 20 percent between 2000 and 2017.
Water scarcity jeopardizes global food security and sustainable development, threatening 3.2 billion people living in agricultural areas.
The remedy?  The report talks about technical solutions but also says: "Land and water governance must be more inclusive and adaptive, to benefit millions of smallholder farmers, women, youth and indigenous peoples."
An important point to recognize is that many agents of change in the landscape remain excluded from the benefits of technical advances. This applies to disproportionately poorer and socially disadvantaged groups, with most living in rural areas. While technical solutions to specific land and water challenges may be within grasp, much will depend on how land and water resources are allocated. Inclusive forms of land and water governance will be adopted at scale only when there is political will, adaptive policymaking and follow-through investment.
If only.
************
Coming soon!  My memoir coming out in October.
For 30% off, go to www.ucpress.edu/9780520384156.  Use code 21W2240 at checkout.