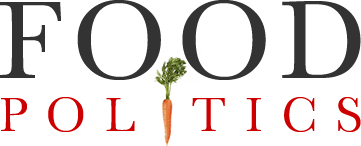 by Marion Nestle
What's up with food systems at COP27?
COP27 is the term used to refer to the 27th annual United Nations Conference of the Parties of the UNFCCC [United Nations Framework on Climate Change Conference) taking place last week and this week in Sharm el-Sheikh, Egypt.
The New York Times has a COP27 explainer with a Q and A
What is at stake at COP27?  This conference will test whether the international community can respond to the increasing urgency of the crisis.  Alden Meyer, an environmental activist and policy analyst who has attended 25 of the past 26 COPs said the global negotiations must evolve from haggling over verbiage in legal treaties to helping countries meet their emissions pledges in time to avoid more climate catastrophes and protect the most vulnerable nations.
This may be the 27th such conference, but it is the first to deal with the intersection of food production and consumption with climate change: how climate change affects agriculture and food systems and how agriculture and food systems affect climate change.
For the first time, several pavilions are devoted to food systems, this one specifically.
Food Tank is managing some of the programs at these pavilions.  Its president, Danielle Nierenberg, reports on them daily at this site
The official UN news site is here.
On November 12, agriculture was the theme of the day.   This is explained in a short video. 
I've been trying to follow the events from Nierenberg's comments and from the occasional article in the New York Times, for example, here (what the fights are about), here (videos of speeches), and here (protest and hunger strikes).
The Food4Climate pavilion's YouTube channel for live streams and videos is here.
The Rockefeller Foundation is involved in COP27.  It sponsors a food and agriculture pavilion.
The Foundation also has produced a film, Food 2050.  The trailer is here.
I'm particularly interested in this film because Rupa Marya, who is attending the conference, says I'm in it and sent me this screen shot (I'm not in the trailer).
Will anything good come out of this COP27?  I'm inspired by this speech from the head of the World Health Organization.  Bringing these issues to public attention might help.
Since 2020, the food & energy sectors' fortune has grown by $382 billion, while 3+ billion people can't afford a healthy diet. Food systems have become a top contributor to environmental degradation, threatening health. That's why the #ClimateAction & Nutrition initiative is key. pic.twitter.com/dNIR1cQsX4

— Tedros Adhanom Ghebreyesus (@DrTedros) November 12, 2022
***********
For 30% off, go to www.ucpress.edu/9780520384156.  Use code 21W2240 at checkout.