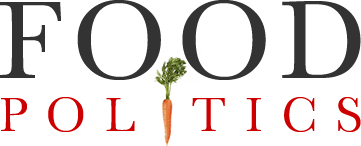 by Marion Nestle
Expert committee releases FDA evaluation report
The Expert Committee tasked with evaluating the FDA's human foods program has released its report.
The Committee begins by pointing out that to do its job, the FDA needs adequate resources, sufficient authority, and a structure and culture that breeds success.
In its judgment, the FDA has none of those.  Instead, it is an agency in "constant turmoil."
The report focuses on lack of leadership.
A leadership skill set, it says, should include:
Expertise and knowledge in food safety and/or nutrition
Ability to make decisions in a complex regulatory environment
Ability to lead in a complex work environment
Strong demonstrated management capability
Superb communication skills
Ability to identify and nurture talent
Instead, the FDA is risk averse, which it admits is "not surprising in a program subject to significant external criticism."
The committee makes many (too many) recommendations:
Identify vision and mission.
Change the agency's culture.
Give it more resources.  Food programs are under-resourced; budget and staffing have been flat for at least a decade.
Expand user fees.  [Uh oh.  Bad idea.  The committee even explains why, but ignores the hazard.]
There is also significant skepticism in the public interest community about the potential for "industry capture" of the Human Foods Program if FDA is overly reliant on industry fees.  Efforts to establish structures to secure additional industry funding, such as enhanced registration fees, may address these concerns. While the Panel acknowledges these concerns, the Panel recommends that FDA explore whether common ground can be found on this issue.
Reinstate the Food Advisory Committee.  [I was on the first one in the early 1990s, but our job was to react to decisions the agnecy had already made, not advise it about tough issues].
Reorganize the agency to give the food programs more visibility, integrate them, and give them clear lines of authority [Note: one big weakness of this project is that the committee was instructed not to include the Center for Veterinary Medicine, as if food for pets and food animals has nothing to do with the human food supply, which of course it does].
The report gives five options for reorganization, all of them complicated and undoubtedly politically difficult.  It lists their strengths and weaknesses, but does not state a preference.
Create a separate food administration within HHS
Create a Deputy Commissioner for Foods
Put CFSAN in charge of human food programs
Puts Commissioner in charge of human food programs
Create a Deputy Commissioner for Foods
Do more about nutrition labeling, research on consumer behavior.  [Really?  That's all?]
Comment: The committee only had a couple of months to pull this together and was required to leave out the Center for Veterinary Medicine.  Even so, the report makes it clear that the FDA is in serious trouble, so much so that the committee did not even get into what the FDA ought to be doing about about taking steps to prevent diet-influenced chronic disease.  This, of course, would require it to take on the food industry—an unlikely scenario given everything else that's not happening.
The next step is to see what the Commissioner does with the report, if anything.  And whether Congress will appropriate more funding.
The report did not say a word about what I see as a major political handicap for the FDA; it's funding comes from congressional agriculture committees, not health committees, even though FDA is an agency of the public health service.   That too needs to change.
What the press is saying:
"While we appreciate the Panel's thoughtful attempt to dig into complicated food issues and their recommendation to elevate nutrition/chronic food illness, creating a seperate, unfunded, nutrition center would have the opposite effect. That's unacceptable." Jerold Mande CEO

Nourish Science