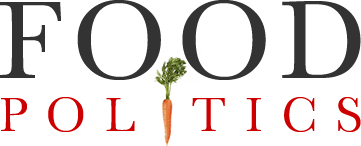 by Marion Nestle
Reforming the FDA: a food industry view
Food Safety News hosted an opinion piece by Sarah Gallo, vice president of product policy for the Consumer Brands Association (formerly the Grocery Manufacturers of America, an industry organization I've written about frequently, most recently about its name change).
Ms. Gallo joins consumer food advocates in arguing that the FDA needs reform (see Helena Bottemiller Evich's account here).
The FDA is released its internal review yesterday (see my post), with insiders doing the reviewing (see Helena Bottemiller Evich's account here).
Here's what the food industry says it wants (my selection from Ms. Gallo's list):
Quicker reviews of new foods and ingredients.
Tailored inspections.
Updated recall processes.
Flexible food labeling.
Improved industry collaboration.
"A transparent regulatory agenda for chemicals in packaging."
Better IT systems.
It's hard to argue with some of these, and I won't.
Yesterday's report recommends some of these, not all (see my post on it).
The Coonsumer Brand Association liked the report.  Here's why:
The FDA is a public health agency; it is part of the US Public Health Service.
I want to see it put public health first in everything it does.
If this means coming up against the food and beverage industry, so be it.  That's its job.
***********
For 30% off, go to www.ucpress.edu/9780520384156.  Use code 21W2240 at checkout.