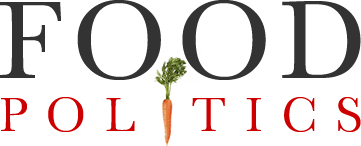 by Marion Nestle
The FDA rules on plant-based milks: a caving in pleasing nobody
At long last, the FDA revealed its proposed decision about whether plant-based milks can be called milk.
As the FDA puts it:
This draft guidance, when finalized, will represent the current thinking of the Food and Drug Administration (FDA or we) on this topic. It does not establish any rights for any person and is not binding on FDA or the public. You can use an alternative approach if it satisfies the requirements of the applicable statutes and regulations.
What this is about
Simple.  The dairy industry does not like concoctions made from soy, almonds, cashews, macadamias, oats, peas, or other such plants to get to be called "milk."  It argues that they are not as nutritious as milk and will confuse consumers into thinking they are the same.  Most surveys show that the public understands the difference quite well and has reasons for choosing plant-based alternatives that may or may not have anything to do with nutrient contents (think: animal welfare, dairy fat, environmental protection, industrial production, or what have you).
This puts the FDA in the awkward position of trying to please the public and the dairy industry at the same time.  Its solution to this dilemma is to invoke nutritionism (the use of nutrients to stand for the whole food):
Plant-based milks can use the word "milk" (the dairy industry doesn't like this)
But they have to say which nutrients they don't have as much of (producers of plant-based milks don't like this).
What this will look like
The FDA says this is a voluntary, non-binding recommendation.
In case that's too small to see:
Really, people who buy plant-based dairy alternatives are not at nutritional risk and don't need to be told about single nutrients in products that have a great many.  This is an out-and-out caving in to the dairy industry's fears that plant-based alternatives will further cut into milk sales at a time when milk sales are declining.
It puts plant-based milk manufacturers at risk of lawsuits if they use Milk without confessing nutritional weaknesses (for an excellent discussion of this liklihood, see Elaine Watson's account in AgFunderNews.  She quotes lawyer Rebecca Cross:
the draft guidance, "is actually quite shocking, as it treats plant-based milks unlike any other food product.  If finalized, the guidance should not survive a First Amendment challenge."

She added: "Although the recommended nutrient statements are not mandatory—or finalized—the draft guidance here may, unfortunately, result in frivolous class actions [plaintiffs would claim brands are misleading reasonable consumers if they choose not to make the nutrient statements recommended in the guidance]. The FDA should recognize this as well, but it seems they have unfortunately succumbed to dairy industry pressure.
So it seems.
My opinion, for whatever it's worth: The FDA should permit plant-based milks to be called milks.  They are what they are and most people should have no trouble telling the difference between them and dairy milk.
For the record, I like dairy products.  But the dairy industry is a mess (overproduced, increasingly consolidated, fighting public health and animal welfare concerns) and needs to get its act together.  The FDA is not helping it get there with this decision.