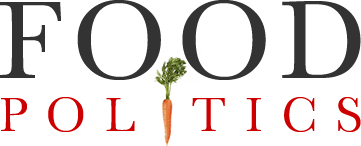 by Marion Nestle
Annals of marketing: eat cereal at bedtime!
Really, I can't make this stuff up.
Thanks to Jim Krieger of HealthyFoodAmerica.org for sending me to Food Navigator-USA: Post launches the first-ever cereal designed to promote sleep.
A cereal meant to be consumed at bedtime?  I wanted it for my cereal box collection, and there hasn't been a good one like this for a long time since the FDA started discouraging ridiculous health claims.  I went straight to the Ithaca Walmart and scored a box.
Sweet Dreams, the box tells you, is "part of a healthy sleep routine."
The front-of-package claims:
Made with whole grains
Supports natural melatonin production with zinc, folic acid, and B vitamins
Excellent source of Vitamin E for neuroprotection
The back-of-package claims:
Sleep…We want to help you enjoy it.  With delicious wholesome ingredients, curated vitamins and minerals, and a specially formulated night-time herbal blend, our dreamy cereal is part of a healthy sleep routine.
Made with a night-time herbal blend containing a touch of lavender and chamomile
I looked up the website:
For 130 million American adults, a good night's sleep is elusive. You deserve good sleep, and we want to help you enjoy it! So, we made Sweet Dreams cereal, the first ready-to-eat cereal specially designed to support a good sleep routine and a fresh start to the next day…Available in Blueberry Midnight and Honey Moonglow flavors, make Sweet Dreams cereal a part of your bedtime routine and enable a better sleep cycle while satisfying those nighttime food cravings.
Comment:
I hardly know where to begin: "curated vitamins and minerals"?  "Supports natural melatonin production"?
This last is a structure/function claim like those for supplements.  It requires only the barest hint of scientific substantiation.
Reader, I ate it.
The cereal is crunchy, with occasionally visible almonds, but is cloyingly sweet (to my taste): A cup of cereal has nearly a tablespoon (13 grams) of added sugar– 24% of a day's total sugar allowance.
No wonder it's so sweet.  Sugars appear seven times on the ingredient list.
Whole Grain Wheat, Rice, Cane Sugar, Almonds, Whole Grain Rolled Oats, Canola and/or Soybean Oil, Flavor Clusters (Sugar, Corn Syrup, Degermed Corn, Palm Oil, Natural Flavor, Cocoa (processed with alkali)(for color), Blueberry and Carrot Concentrates (for color)), Salt, Honey, Corn Syrup, Barley Malt Extract, Molasses, Tocopherols (Vitamin E) to maintain freshness, Natural Flavor.
Post must be trying to sell more cereal.  Eat cereal at night?  Well, if you have sleep problems I suppose you can give it a try.
I ate this cereal in the morning.  It did not make me feel sleepy.
*******
For 30% off, go to www.ucpress.edu/9780520384156.  Use code 21W2240 at checkout.