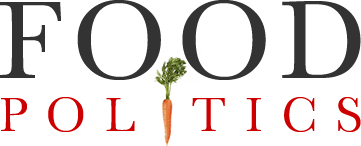 by Marion Nestle
The food industry vs. public health: the FDA's "Healthy" label proposal
 A few months ago, I wrote about the FDA's proposal for allowing the use of the word "Healthy" on food labels.  I said:
If we must have health claims on food packages, the FDA's proposals are pretty good. They require any product labeled "healthy" to contain some real food (as opposed to a collection of chemical ingredients or, as author Michael Pollan calls them, "food-like objects"), and for the first time they include limits on sugars…These proposed rules would exclude almost all cereals marketed to children.
Now, the Consumer Brands Association (formerly Grocery Manufacturers Association), which represents Big Food, and which objects to the FDA's proposal, has proposed an alternative framework.
The CBA is clear about its objectives.  It worries that
consumers could second guess or even reject items that might no longer be qualified to bear the "healthy" claim that can bear the claim today…As it stands, the proposed rule would eliminate an inordinate number of packaged products from being considered "healthy."
That, of course, is its point.
The CBA issued what I read as a clear threat:
FDA's proposed changes to its "healthy" definition will contradict the current Dietary Guidelines, causing confusion among consumers and potentially inviting legal challenges for the agency.
In other words, if the FDA does not back down on this, CBA intends to go to court over it.
This was also clear from the CBAs 54-page set of comments to the FDA.  As quoted in the Washington Post, the CBA said:
We are particularly concerned by the overly stringent proposed added sugars thresholds. We appreciate FDA's interest in assessing added sugars intake. We believe, however, that FDA's restrictive approach to added sugars content in foods described as healthy is unwarranted and outside FDA's authority given the lack of scientific consensus on the relationship between sugar intake and diet-related disease.
Ted Kyle, who writes the excellent newsletter, ConscienHealth, also quoted the CBA:
Manufacturers have the right to label foods that are objectively 'healthy' as such, based on a definition of 'healthy' that is truthful, factual, and non-controversial. We are concerned that limiting the truthful and non-misleading use of the word 'healthy' in product labeling could harm both the consumer and the manufacturer.
As Kyle put it, "If you did not catch it, this is a freedom of commercial speech argument. Any guesses how the current Supreme Court might rule on that one? Yep, corporations are people too."
As I am ever saying, food companies are not social service or public health agencies.  They are businesses whose first priority is returns of profits to shareholders, regardless of how their products affect health (or the environment, for that matter).
The pushback on the FDA's seemingly trivial "Healthy" idea, is enought to make me think it might actually have some impact.
*******
For 30% off, go to www.ucpress.edu/9780520384156.  Use code 21W2240 at checkout.