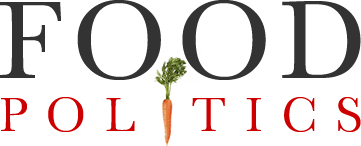 by Marion Nestle
The Farm Bill: transform its focus to food, not feed or fuel
Today, Congressman Earl Blumenauer (D-OR) is introducing the Food and Farm Act of 2023.  A summary of the bill is here.
This legislation is a comprehensive, alternative Farm Bill that advances four principles of agricultural reform:
(1) focusing resources on those who need it most;

(2) fostering innovation;

(3) encouraging investments in people and the planet; and

(4) ensuring access to healthy foods.
His bill has much to recommend it.  I gave it a blurb:
It's great that Congressman Blumenauer wants to "shift the Farm Bill."  The current Farm Bill focuses on producing feed for animals and fuel for cars.  It's time to transform it to support policies that promote food for people and sustainable production practices.  Blumenauer's Bill is a great step in that direction and is worth all our support."
I also like Senator Cory Booker's analysis.  He tweeted:
Right now, our dietary guidelines tell us that 50% of the food we eat should be fruits and vegetables – but less than 10% of our Farm Bill subsidies currently go to fruits and vegetables. The 2023 Farm bill will be an important opportunity to change this.
He explains all this in a 30-second video.
The National Sustainable Agriculture Coalition also has a video (4-minutes) as part of its primer on the Farm Bill.
Farm Bill Basics
Its pie chart explains the politics .
The Farm Bill is a shotgun wedding between supports for Big Agriculture and SNAP—the green three-quarters of the pie.  There aren't enough votes to do either, so President Johnson's brilliant logroll is still necessary.
Republicans want spending on nutrition to decline, and fast, and are insisting on work requirements which, if passed, would undoubtedly decrease rolls (and greatly increase poverty).
We are still at the beginning of this Farm Bill round.  Stay tuned.
*******
For 30% off, go to www.ucpress.edu/9780520384156.  Use code 21W2240 at checkout.