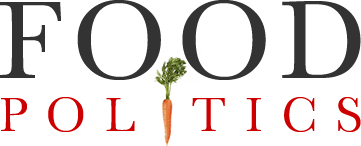 by Marion Nestle
USDA Concentration and Competition in US Agribusiness
Well here's a big surprise.  The USDA is taking a look at concentration in agribusiness.
TODAY: Webinar at 1:00 p.m. ET.  Register here.
Here's what this is about:
This report details issues surrounding market concentration in agribusiness, particularly in three agribusiness sectors where concentration has increased over time: seeds, meatpacking, and food retail. Market concentration and its impact on competition have attracted growing public scrutiny. Critics argue that many industries have grown too concentrated, with fewer firms competing with one another and a consequent weakening of competition. The report covers the consolidation in each of these industries, explains the driving forces behind increased concentration, and examines public policies aimed at encouraging competition, focusing on the implementation of merger policy.
This report has lots of interesting tidbits about those three industries.
Two firms, DuPont Pioneer and Monsanto, control 71.6% of U.S. corn and 65.9% of U.S. soybeans.
Four U.S. meat firms (not necessarily the same ones) control 85% of steers and heifers, 67% of hogs, 55% of turkeys, and 53% of chickens.
But what is shocking to me about this report is what it does not say.
It does not refer to or even cite Phil Howard's book: Concentration and Power in the Food System: Who Controls What We Eat?
I wrote about Howard's book when it came out in a new edition.
How could the USDA's economists fail to mention Howard's analysis of the global seed industry (since updated).
It's great the USDA is taking this on.  But if you really want to know what's going on in industry concentration, read Phil Howard's book first.