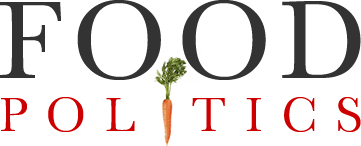 by Marion Nestle
Soda Politics: Taking on Big Soda (and Winning)

Published: October 5, 2015
Order from Oxford University Press.  Order from Amazon.
Use and enjoy the list of media resources—links to videos, audios, songs, movies, infographics, commercials—keyed to illustrate the text.
This book:
Answers the question, how did what is essentially flavored sugar-water come to mean so much and to have such devastating health and food policy consequences?
Is the first to focus on the history, politics, nutrition, and health of soda, integrating public health science with historical and cultural research
Helps readers understand how we created this food system, what its problems are, and what we can do to fix these problems
Is illustrated with 70 figures and 50 tables
Comes with a Foreword by Mark Bittman, food journalist and columnist for The New York Times
Comes with an Afterword by Dr. Neal Baer, pediatrician and television writer and producer
Here are the book's blurbs:
"The soda industry is a powerful economic operator. Economic power readily translates into political power. Soda Politics is exactly the kind of carefully-researched investigative reporting needed to open the eyes of the public and parliamentarians to the health hazards of what is, as the author rightly notes, essentially liquid candy in a bottle." –Dr. Margaret Chan, Director-General, World Health Organization
"No book in history has so completely laid bare the soda scourge that touches every corner of the world. Marion Nestle shows how this happened, its impact on human health and well-being, who the players are, and, most importantly, what might be done. This is the right book at the right time." –Dr. Kelly Brownell, Dean, Sanford School of Public Policy, Duke University
"Marion Nestle is one of the greatest muckrakers of our time, and what she does is vitally important-for our health, our environment, and for future generations. Here, she wages war against the soda titans with such piercing clarity and so many irrefutable truths that all other arguments crumble." –Alice Waters, Founder and Proprietor of Chez Panisse
"Comprehensive and well-written, this book will help frame a thoughtful public policy debate about nutrition and the societal impacts and costs of obesity." –Ann M. Veneman, Former US Secretary of Agriculture and Former Executive Director of UNICEF
"What happens when the food industry's most insightful critic turns her sights on soda? This razor-sharp, fun to read, plan-of-battle for one of the greatest public health fights of our time. Big soda may have all the money, but those who would enter this fray, as we all should, now have their champion." –Michael Moss, Author of Salt Sugar Fat: How the Food Giants Hooked Us
"For decades, soda companies have amassed fortunes off drinks that are making us sick. It took someone like Marion Nestle to cut through the spin and uncover the high cost of cheap sodas." –Robert Kenner, Director/Producer, Food Inc. and Merchants of Doubt
"Long recognized as an important and informed voice in our national and international discussions on nutrition and health, Marion Nestle has written another book that will keep us talking. With an impressive combination of scholarship and advocacy, Dr Nestle takes an unflinching look at the soda industry, its products and the impact on health. Soda Politics deserves the attention of the public and policy makers, and should make us all think more carefully about choices we can make to improve health and well-being."–Margaret Hamburg, M.D., Former Commissioner, U.S. Food and Drug Administration 
REVIEWS
Here's the first review from the August 2015 Library Journal:
Nestle (nutrition, New York Univ.) once again exposes the dark side of the food business. As in her 2007 Food Politics: How the Food Industry Influences Nutrition and Health, the author examines the soft drink industry, demonstrating how products that are basically flavored water with added sugar contribute to obesity, type-2 diabetes, and metabolic syndrome. She discusses the composition and production of soda, the adverse effects of excess sugar consumption, and product marketing. The companies' targeting of children, low-income, and minority communities; lobbying of Congress to prevent legislation that would impact profits; funding of research to produce results that obscure the facts about soda; and donations to health organizations and charities in order to be portrayed as socially responsible corporations make it difficult for citizens to act. Nestle reveals what can be done and how to do it, providing relevant data, analyzing that information, and illustrating its difficulties. She then advocates for smaller portions, taxing sugary drinks, and excluding soda from the Supplemental Nutrition Assistance Program (SNAP) and provides examples of successful campaigns, a list of groups advocating for healthy beverage choices, and extensive notes. VERDICT An outstanding manual for health educators, activists, and anyone seeking information about the soda industry and its impact on health.—  Barbara Bibel, formerly Oakland P.L.
David Katz in Nature 526: 34–35 
For me, the single most stunning and appalling revelation comes in the section about environmental impact and industry responses to it. It is that between 340 and 620 litres of water are used for every litre of soft drink produced, about 20% of that related to packaging. Despite such disturbing revelations,Soda Politics is not discouraging…Throughout the book, Nestle provides tactics for practical, local advocacy, such as working with school wellness committees and engaging local policymakers. And since 2002, the proportion of US citizens who say that they avoid soft drinks has risen by 20%, reaching nearly two-thirds of the population…For public health to prevail over soda politics as usual, we have miles to go. This book is the richly drawn map of how to get there, from here.
From Science Magazine, October 16, 2015:285
The standard operating practices of companies like Coca-Cola and PepsiCo demand the same level of scrutiny as cigarette companies, and for many of the same reasons, argues Marion Nestle in the introduction of her new book, Soda Politics. What follows is a thorough and unflinching look at the soft-drink industry's role in promoting the consumption of sugary drinks despite growing evidence that they are detrimental to our health. The book begins with a basic primer of the range of health problems that have been linked to soda consumption, from tooth decay to obesity and diabetes, hitting its stride with an eviscerating assessment of the industry's marketing and advocacy practices.
From US Food Policy, November 11, 2015
For those readers who share Nestle's critical perspective on the food industry, it is obvious that this book would be informative. But here is the greater surprise: this solid book is by far the best source on this topic for any reader, with any perspective on economics or politics.  If I worked for a trade association, or an industry front group, or an esteemed professional association that relies on soda industry funding, or the House Agriculture Committee, or a sugar manufacturer, or a high-powered corporate law firm, I might store this book in my desk drawer rather than my book shelf … yet I would read it word for word.
From The Independent, November 12, 2015
In Soda Politics (OUP, £19.90), Dr Marion Nestle does us all a great service by spelling out clearly and authoritatively the dreadful price we are paying for guzzling gallons of sugared water – Coke and Pepsi by any other name. Big Soda, as Dr Nestle calls the billion-dollar corporate giants behind this poison, know exactly how bad their products are for us but are so powerful no one takes them on. Rise up and rebel, Nestlé urges.
From the L.A. Review of Books, November 19, 2015
Nestle writes like an investigator hunting every possible scrap of damning material for a prosecutorial brief, which will no doubt make her book an excellent resource for activists and reformers seeking remedies in Washington, in the courts, and, perhaps, in the aisles of the local supermarket.
From the New York Times Book Review, November 21, 2015
Big Soda knows what it's doing.

Fortunately, so does Marion Nestle. The nutrition professor, advocate and investigator best known for "Food Politics" profiles the soft drink industry in her expansive, superbly researched new book, "Soda Politics: Taking On Big Soda (and Winning)." It isn't so much a narrative as a well-organized barrage of facts, some eye-popping (the world's soda companies produce nearly two trillion 12-ounce servings annually), others banally incriminating. They come off the page like jabs in a sustained pummeling lasting more than 400 pages. Even if Nestle is only half right, it's still a total knockout.
From The Economist, November 28, 2015
Drinks companies must also reckon with a small army of health advocates, among which Ms Nestle is a major-general.
From Matthew Donnelly, Gulp, November 30, 2015
This is a food advocates' book which forensically analyses the tactics of the 'Soda' industry.
From Jane Lear at TakePart, December 2, 2015
Nestle is foremost an educator and an activist, and Soda Politics is worth its price alone for the chapters on advocacy, from recruiting public health leaders and working from within to protecting public water resources…In other words, we can change things, one Big Gulp at a time.
From The Lancet–Diabetes/Endocrinology , February 4, 2016: "comprehensive…cogent and fair-minded."
Caffrey M.  Is soda the new tobacco? An expert and new CDC data say yes.  American Journal of Medical Care 2016;22(4):139-141.
Sabnavis M.  Bitter fizz.  Financial Express (India), March 20, 2016: A book that exposes that there's more ill in a cola bottle than mere sugar—environment costs, high water use and pure politics.
Das Gupta U.  The bitter fight over sugary drinks.  Business standard (India), March 22, 2016.
Angier N. The Bear's Best Friend.  New York Review of Books, May 12, 2016: 56-58.
Janer Z.  Profit Before People: The Case Against the Soft Drink Industry.  The Wire, April 24, 2016.
Hearne SA.  Behind the curtain.  Health Affairs, May 2016:936.
Mosaffarian D.  The politics and science of soda and our health.  The Lancet 2016;387 (May 28):2190-2191.
Wineberg D.  The San Francisco Review of Books.  October 20, 2018.
MEDIA ON SODA POLITICS
2017
May 26  Soda Politics: como baixar o consumo de refrigerante, Do Campo à Mesa (in Portuguese)
2016
April 14  Opinion piece in Reforma.com (in Spanish).
April 14 Article in La Jornada about my lecture in Mexico City (in Spanish)
March 24 BYU radio Matt Townsend show
March 2 ABC-FM interview with Margaret Throsby, Classic FM
March 1 Lecture to Sydney Ideas, U. Sydney
March 1 ABC News radio and print interview with David Taylor
Feb 29  Interview (online) with ABC Sydney
Feb 27  "At Lunch With" column in the Sydney Morning Herald: "the powerful foodie"
Feb 24  Podcast of lecture on Soda Politics at the University of Melbourne
Feb 19 Radio interview with Mark Colvin, ABC News (Sydney)
Feb 19 Podcast interview with Colvinius, ABC News (Sydney)
Feb 18  BTR Media podcast (my interview on Soda Politics is at 13.01)
Feb 7  Wisconsin Public Radio interview
Feb 1  Interview (online) with Chris Radicz of the American Society for Nutrition
Jan 29  Interview with BreakThroughRadio's Rebecca Chodorkoff
Jan 20 Interview with Suzi Phillips, U. Auckland
2015
Dec 16  Podcast with Steve Mirsky of Scientific American
Dec 16  Food Tank's favorite books of 2015
Dec 9 Edible Manhattan and Brooklyn, Favorite Books.
Dec 9 Civil Eats' 20 Best Food and Farm Books of 2015
Dec 5 KCRW radio, Evan Kleiman's Good Food
Dec 1  KALW hour-long radio San Francisco interview
Nov 23 Soda Politics podcast, New America NYC
Nov 11  Interview with Reserve Editorial Team, In the Kitchen
Nov 6  Audio recording of Q and A talk at San Francisco's Commonwealth Club, with Dr. Alice Huan-mei Chen
Nov 3 Good Food World book description
Nov 1  Interview in Nutrition Action Healthletter, November 2015:1-5
Oct 28  The Seattle Times
Oct 27  The Salt on Soda Politics
Oct 27 Texas Public Radio on Soda Politics
Oct 20  Video of presentation to New York Times Food for Tomorrow Conference on soda taxes
Oct 19  Article in Veille Action pour de Saines Habitudes de Vie (in French)
Oct 19  Interview with Lingyi Hou for NYU's Washington Square News
Oct 15 KUT News radio, interview with Tom Philpott 
Oct 9 Interview Q & A with Nancy Huehnergarth on Huffington Post
Oct 8  Interview Q & A with Andy Bellatti on Civil Eats
Oct 7  MP3 interview with Carl Lenoe on Super Human Radio
Oct 6  CSPAN video recording of book event at NYU
Oct 6  Radio interview with Dr. Mercola, with transcript.
Oct 5  Interview with Roberto Ferdman in the Washington Post
Oct 5 Caselli_Mechael L.  "Soda Politics" & science: 5 issues.  Food Insight, IFIC.
Oct 5 Foodline radio interview
Oct 4  Interview with Johnny Adamic of the Daily Beast
Oct 2  Interview with Jamie Ducharme of Boston Magazine online
Sept 28  Interview podcast with Dr. Mercola.  Condensed version.  Full version.
Sept 25  Interview with Julia Belluz, Vox
Sept 21  Interview  with Katy Kieffer, Heritage Radio
Sept 10  Interview Q and A with Natural Path