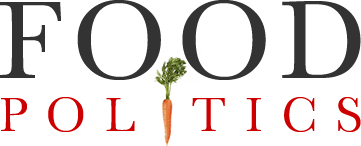 by Marion Nestle
USDA's Road to Healthville
Yesterday, I received a press announcement from the USDA with an invitation to join today's press conference, "The Road to Healthville: Challenge to End Childhood Obesity." The press release explains:

"This new approach represents a significant paradigm shift for USDA. For over 100 years USDA has been providing the public with nutritional guidance based on the latest science. However, as we know, waistlines have continued to expand over recent years…So what do we do in encourage healthy eating?

Dr. Brian Wansink, Executive Director of the USDA Center for Nutrition Policy and Promotion, has introduced a completely new approach — in a word "reminders." If the public were to get a prompt or cue throughout the day (where we purchase food, prepare food, work and play), a subtle or gentle reminder, people will begin to respond with improved eating habits. Further, if corporations were enlisted in this effort with their extensive reach into the market-place to provide MyPyramid-based messaging and product development, there is reason to believe that healthier eating patterns and lifestyles will be adopted."

Kellogg is among the charter members.  Today's Kellogg press release lists what the company promises to do.  Uh oh. It's developing a curriculum for K through 8 school kids.  Want to bet that Kellogg's logo will be prominently displayed?