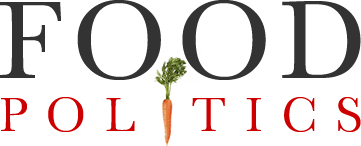 by Marion Nestle
Hope for the FDA at last: Sasha eats peanut butter!
Thanks to Food Chemical News for telling its readers about the President's appearance on the NBC Today Show this morning:  
Matt Lauer: There's been a massive peanut butter products recall in this country over the last several weeks, most of the products traced to one plant in Georgia that has a bit of history of sending out products even though there have been traces of Salmonella found. The question…the obvious question people want to know is, "Is the FDA doing its job?"
President Obama: Well, I think that the FDA has not been able to catch some of these things as quickly as I expect them to catch. And so we are going to be doing a complete review of FDA operations. At bare minimum, we should be able to count on our government keeping our kids safe when they eat peanut butter. That's what Sasha eats for lunch, probably three times a week, and you know I don't want to have to worry about whether she is going to get sick as a consequence of having her lunch.
This leaves me breathless.  I've been saying for years that the only thing that would ever get Congress moving on the FDA would be if a relative of an important Senator became seriously ill with food poisoning, not something I would wish on anyone.  Fingers crossed everyone!