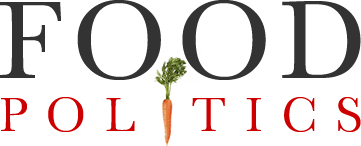 by Marion Nestle
What the FDA is doing while waiting for Congress to get busy
The FDA must be in a bit of a quandary as it waits to see what Congress orders it to do about food safety (see previous post).  But it is not sitting around doing nothing.  Instead, it seems to be unblocking regulations that have been in the works for a long time.
On July 9, the FDA announced a final rule for prevention of Salmonella Enteriditis contamination of shell eggs during production, storage, and transportation.  This might seem unremarkable except for two points: (1) it requires science-based food safety procedures – with pathogen testing – from farm to table (an all-time first), and (2) it was first proposed in 2004 and has been stuck ever since (that's politics for you).
On July 31, the FDA proposed safety guidance for melons, tomatoes, and leafy greens that would apply to everyone involved in the supply chains for these foods – growers, packers, processors, transporters, retailers, and others.  Guidance, alas, is just that: voluntary.  But this puts the producers of such foods on alert that the guidance could swiftly turn into rules  if Congress gets busy and does what it ought to be doing about food safety.  The guidance is open for comment but it is designed to be implemented within two years.  This is quick in FDA regulatory time.
And now the FDA announces that it is speeding up its system for issuing warning notices to companies in violation of safety regulations.  This is a good step, although it falls far short of recall authority.  For that, Congress must act.
Applaud the FDA and keep fingers crossed that no new outbreaks occur while Congress takes its own sweet time to act.