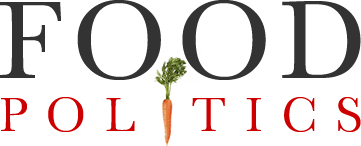 by Marion Nestle
Food safety bill deserves support, even from small farmers
Alas, Congress did not pass food safety legislation by Thanksgiving, and I'm getting lots of requests to comment on it.  For example, Johannes G writes: "Marion, I'm usually spot on with you about a lot of things you talk about, but your final comment truly irritates me. We don't need more regulatory policy, we need a food policy that makes sense."
Actually, I think we need both.  No question, a better food safety regulatory policy is high on my priority list.  Why?  Because the food industry will never produce safe food voluntarily.  It's time to give regulation a try, and now is the time.  While the window of opportunity is open, we need to convince Congress to act.
Current legislative proposals
To recap where we are on this: the House passed H.R. 2749, the Food Safety Enhancement Act last July. The Senate is currently considering S. 510, the FDA Food Safety Act.  Some version of these bills seems likely to pass, although it is not at all clear by when.
Although food safety advocates generally agree that we need a single food safety agency that integrates the activities of USDA and FDA, these bills are designed to fix the FDA alone, not the overall food safety system. For a quick take on the provisions of some of the bills under consideration, see the summary chart produced by the Center for Science in the Public Interest.
The bills require science-based (HACCP-type) processes for producing food, starting on the farm. And at long last they authorize the FDA to order recalls or detain foods deemed unsafe. No, the FDA does not already have these basic tools.  It needs them.
One more time on HACCP: It means Hazard Analysis Critical Control Point with Pathogen Reduction.  Translation: identify where in the production process contamination might occur, take steps to prevent contamination from occurring at those points, document that the steps were taken, monitor and inspect periodically to make sure the documentation is accurate, and test to make sure no contamination has occurred.
Without much chance of getting a single food safety agency, fixing the FDA is a good thing to do.  We can hope that once the FDA bill is passed, Congress will work on legislation to reconcile the inconsistencies in FDA's and USDA's food safety rules.  But that cannot happen unless the FDA first has the ability to require science-based food production and can authorize recalls and detentions.
The "scale" problem
This brings us to the problem of small farmers, or what regulatory agencies refer to as the "scale" (translation: size) problem. Steve Gilman, the policy coordinator for the Interstate Council of the Northeast Organic Farming Association (NOFA) sent me a copy of a letter to Senators signed by 70 or so members of the National Sustainable Agriculture Coalition.
This group is deeply worried about the bill's "unintended negative impact on family farms, value-added agricultural development, conservation and the environment, organic farming, and emerging local and regional food systems."
The Coalition wants the Senate to consider, among other things:
A two-track regulatory system based on the size, type, and diversity of a farm's production.
Rules based on level of risk ("fresh cut, ready-to-eat packaged fruits and vegetables pose a far greater risk than whole produce").
Exemptions for traceability requirements.
Scale-appropriate food safety training as outlined in additional legislation (introduced as S. 2758, The Growing Safe Food Act).
I greatly favor support of small farmers.  But I think all farmers – no exceptions – should be producing safe food. Thinking through a food safety plan is not that hard to do and farmers of any size operations should be carefully designing and diligently following HACCP-type plans appropriate to their specific situations.
Farmers who produce foods unlikely to be cooked before eating — raw vegetables, raw milk, raw oysters, for example – should be testing for contaminants on some kind of regular basis at time intervals that depend on the level of risk.
I think testing is so badly needed that I would add support of testing facilities to the Coalition's legislative wish list.
The scale issues are important and I hope the Senate will consider them seriously, incorporate them into the final legislation, and look for ways to support the food values outlined by the Coalition.   But the fix-the-FDA legislation should not be held hostage to the scale problem.  The FDA needs better methods for protecting the public from the hazards of industrial production methods.  While making sure the FDA gets food safety authority, we need to work hard to get scale-appropriate rules or enforcement for smaller farmers who want to opt out of industrial food production, grow diverse crops, and produce them sustainably.